Thursday, September 20th, 2012
Sources to receive operating help from outside agency
By William Kincaid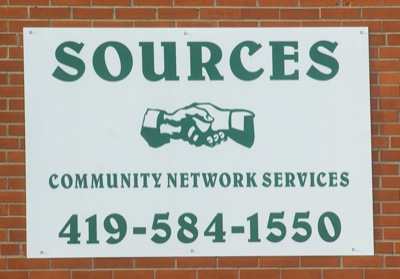 CELINA - An outside agency will assist with the day-to-day operations of Sources Community Network Services, a non-profit, anti-poverty organization serving Auglaize, Mercer and Van Wert counties, as the Sources board of directors continues an investigation into management issues.
Board members on Wednesday afternoon unanimously authorized Lima Allen Council Community Affairs (LACCA) to assist with day-to-day operations at Sources.
At the special meeting, board members also formally placed executive director Debra Farrell on indefinite unpaid leave of absence.
Farrell, who has served as executive director for more than 20 years, was removed from her position Sept. 4 when three board members and the board's attorney told her she was being put on leave until an independent investigation was completed.
However Farrell's removal was made prior to a vote by Sources' board of directors to take such action.
Board members on Wednesday came out of a lengthy executive session called to discuss the investigation of complaints against employees and unanimously agreed to put Farrell on leave.
In Farrell's absence, board treasurer Tammy Barger will serve as interim executive director to sign necessary documents as well as serve as a liaison to the board.
Barger said she will not be paid for the temporary position.
Board member Kathy Bayless will serve as temporary assistant interim executive director.
Both women will retain their ability to vote as board members.
The decision to temporally appoint the two women was not unanimous. Some board members questioned having sitting board members act as temporary directors.
Barger told members the state recommended that a board member serve as liaison during this time but she did not have that suggestion in writing.
Karen Seibert, one of the 12 members of the 15-member board at the meeting, voted against appointing Barger and Bayless as temporary directors.
She told the newspaper that someone else who isn't already so busy should have been appointed, pointing out Barger is the Mercer County Recorder.
Many of the actions taken Wednesday, including placing Farrell on leave, were done because proper notifications of past meetings had never been issued, according to attorney Bryan Niemeyer, who was formally retained by the board on Wednesday. A copy of the board's contract with Niemeyer was not provided to the newspaper.
Barger said the board is evaluating what funding source will be used to pay for Niemeyer's services.
The Daily Standard on Sept. 13 made a request to Niemeyer to turn over minutes from all of Sources board meetings from the last year. Minutes from meetings in January 2010 through April 2012 were given to the newspaper on Wednesday. No reports from meetings in May through August were made available.
The Rev. Kenneth Baker is president of the board of directors. He has withdrawn from the investigation proceedings because of a conflict of interest - he is Farrell's pastor.
According to Barger, Sources is applying for a $20,000 federal grant through a Community Services Block Grant Training and Technical Assistance Program to pay for LACCA's service and staff training.
LACCA's contract is retroactive to Sept. 17.
Jacqueline Fox, chief executive officer of LACCA, said her organization is the equivalent of Sources and will offer consultation services. Fox told the newspaper that her agency's services were requested by Sources.
The LACCA contract can be terminated early or extended past the Dec. 17 end date if necessary, Fox said.
Board members also on Wednesday approved medical leave of absence requests from Farrell and Home Weatherization Assistance Program coordinator Rich Goodwin, both of whom provided doctor's slips, according to Niemeyer.
Farrell will use accrued sick time from Sept. 4 to Sept. 23, while Goodwin will receive accrued sick time Aug. 31 to Sept. 30.
Scott Snyder was named interim HWAP coordinator.
Sources provides residents with housing and utility services, home weatherization and rehabilitation, transportation and assistance with various emergency needs. According to an audit for the fiscal year ending March 31, the agency had $2.17 million in revenue - $1.75 million from grants - and $2.05 million in expenditures.
Before going into executive session Wednesday, Sources receptionist and outreach worker Sharon Buirley asked board members to resolve the situation as quickly as possible as Sources is already short-staffed going into its busy season of the year.
"We need to get his straightened out," she said.

Board members:
One-third of the members on the board of directors of Sources Community Network Services are elected public officials or a representative of their office, one-third represent the poor, and the remaining members represent the community.
Current board members are Nick Dammeyer, Celina; Karen Blumhorst, St. Marys; Dr. Larry Heitkamp, St. Marys; Kathy Mescher, Celina; Mary Laws, New Bremen; Carol Berg, Wapakoneta; Karen Seibert, Celina; Wayne Sweigart, St. Marys; Karen Platfoot, Coldwater; Tammy Barger, Celina; James Carpenter, Celina; the Rev. Kenneth Baker, Celina; Kathy Bayless, St. Marys; Robert Wycuff, St. Marys; and Karla Kincaid, Celina.