Saturday, September 22nd, 2012
Record-setting win for Celina
By Ryan Hines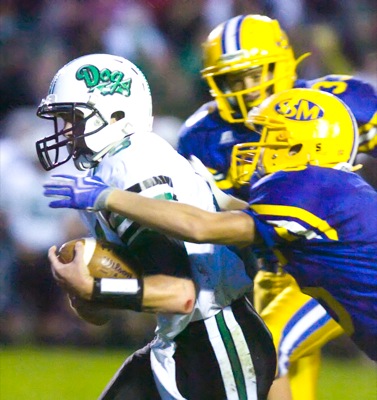 CELINA - While lightning postponed all of the other local football games in the Grand Lake Area, Celina withstood a two-hour delay and then put on a record-setting performance in a dominating victory over St. Marys on Friday night.
Bulldogs' quarterback Braden Billger broke Celina's all-time touchdown passes record and tied his own mark for most TD tosses in a single game to lead the Green and White to a 47-7 victory.
The 40-point margin of victory is Celina's largest in the 96 games played between the two Grand Lake rivals and the 47 points is also a series high for the Bulldogs.
The most impressive part of Celina's dismantling of the Roughriders was Billger's success in the passing game. Billger completed 16-of-22 passes for 307 yards and six touchdowns through the driving rain and sloppy field conditions.
"I told him (Billger) once we got back on the field after the delay that I wasn't going to stop passing the ball because of the rain," said Celina's head coach Jared Rolfes. "I told Braden that he's going to be throwing the ball and Braelen is going to be on the other end because that's what the defense was giving us."
"The ball was tough to throw and I was basically throwing it from my palm like a shot put, but I got the ball into the hands of our playmakers and they made the plays," said Billger.
Billger broke the tie with Trent Dysert for career touchdown passes at the 7:13 mark of the first quarter on a nine-yard crossing pattern to Mason Ross.
"Feels great to be number one in the record books, but it feels even better to beat St. Marys," said Billger.
Bulldogs' junior receiver Braelen Bader had a monster night as well catching 10 passes for 233 yards (fourth-most in Celina history for a single game) and four touchdowns (ties school record with Kahl Knapke and Tim Frysinger).
"I think our line did a great job of giving Braden time to throw, and I'm not sure how he was throwing the ball as well as he did. I just tried to catch everything that came my way," said Bader.
Celina's offense, which also produced 107 rushing yards from Zach Hembree, outgained St. Marys 439-186.
Despite the lopsided final score, St. Marys actually held a 7-6 lead on Trent Wale's 48-yard TD run when the game was halted because of lighting with 2:00 remaining in the opening quarter. Two hours and 16 minutes later the teams returned to the field and Celina capped a 12-play drive with a Hembree three-yard TD run for a 14-7 lead. Hembree's TD run was the start of 40 unanswered points by the Bulldogs.
"To win the way we did against our rivals is big for us," said Rolfes. "We weathered the storm early on and then things really started to click for us."
As the rain continued to fall, Celina rushed Hembree five straight times on its next possession before Billger fooled the Roughriders' defense with a pump fake and fired a strike to Bader for a 45-yard touchdown.
Celina's Sean Kirk intercepted a pass on St. Marys' ensuing possession, and six plays later Billger hooked up with Cody Vogel on a 19-yard scoring pass to put the Bulldogs in command 27-7.
The Bulldogs used a little razzle-dazzle on their next touchdown. Billger took the snap and handed off to Bader, who gave the ball to another Bulldogs' receiver, who pitched it back to Billger, who then launched a 59-yard dart to a streaking Bader for a touchdown.
Billger later hooked up with Bader two more times for touchdowns in the third quarter (20 and eight yards) before the Bulldogs took out their starters for the fourth quarter.
During the lightning delay, there was discussion of pushing the conclusion of the game to Saturday but Celina had coaches with conflicts early in the day and St. Marys had its homecoming in the evening. Pushing the game to Sunday was also briefly considered.
Celina returns home next Friday to take on Van Wert while St. Marys is on the road at Defiance.