Tuesday, September 25th, 2012
Celina tops Shawnee on Stahl's late goal
By Gary R. Rasberry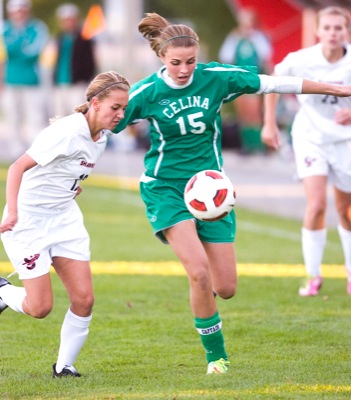 FORT SHAWNEE - Celina's girls soccer team took a major step toward winning their first Western Buckeye League title since 2009 on Monday night against Shawnee.
Katie Stahl's goal with just over two minutes left in the game helped Celina rally for a 3-2 win over Shawnee, and the Bulldogs remain undefeated in WBL action.
Celina sits in the top spot of the WBL standings with a 6-0 mark and 18 points (three points for a win, one for a tie). The only other team in the WBL without a loss is Bath at 5-0-1 (16 points). The Bulldogs and Wildkittens meet in the final league match of the season on October 9 at Bath.
"Coming over here, for any sports, it's hard to get a win," said Celina's senior Hillary Heiby, who had the assist on Stahl's game-winner. "(Shawnee) is just a great team. They play hard on their home field."
"We gave up some goals, which we haven't done all year, but we gave up goals to a real good team," said Celina's coach Cal Freeman. "You can't take anything away from Shawnee. Great team. Coach (Caroline O'Brien) had them ready for us. Had them prepared. They gave us all we wanted."
The Indians, who knocked the Bulldogs out of WBL contention last season, got the opening score as Kaitlynn Gronas booted an 18-yard shot past Lydia Cron at the 35:46 mark of the first half. It was the first goal Celina had allowed in WBL play this season.
Nine minutes later, Celina knotted the score at 1-1 as Bekah Carr lofted a high kick that went over the head of Shawnee's goalie Abby Waddle.
Celina's defense focused on containing Shawnee's standout Shelby Lucas as the Bulldogs' Gina Strable was used primarily on her for one-on-one defense. Lucas didn't have many scoring opportunities, but she cashed in on one to give Shawnee a 2-1 lead. Lucas broke into the box and got past Cron before putting it past Strable, who tried to defend the net, with 12:53 to play in the opening half.
"We decided early we were going to mark (Lucas) and stay on her," said Freeman. "We put Gina Strable on her. She played hard for us."
It didn't take long for Celina to regroup with the equalizer in the second half as Stahl booted a crossing pass to Elyssa Sheriff, who cashed in on the open net opportunity with 34:35 remaining in the game.
With the score tied, Celina's Caelyn Reineke had two good chances for the go-ahead score but went wide the first time and over the bar on the second shot.
With the clock winding down to two minutes, Celina scored with 2:17 left in the match. Celina's Taylor Guingrich booted the ball on a corner kick to Hillary Heiby, who was able to pass the ball to the other side of the net, where Stahl found her opening and scored.
When Stahl got her shot, only one thing crossed her mind.
"I was hoping I wouldn't kick it over (the bar)," said Stahl. "It was all adrenaline and I was freaking out."
"It was a great game. There was a lot of opportunities for both teams," said Freeman, whose team outshot Shawnee 18-10. "This is what soccer is all about in the WBL. This game is just awesome.
"Coming here, playing at Shawnee and winning at Shawnee is big. I'm just so proud of our girls and how they played. They played 80 strong minutes."
Celina is back in WBL action on Thursday hosting Kenton (0-6 WBL) at the Soccer Stadium.