Wednesday, September 26th, 2012
Romney vows to increase jobs, pay
GOP candidates touch down at Dayton airport
By William Kincaid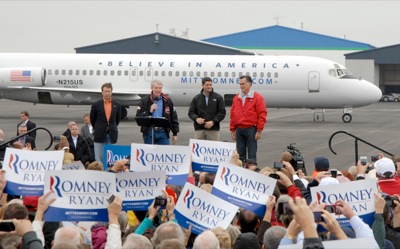 VANDALIA - Republican presidential candidate Mitt Romney said the shape of America's soul will be determined at the polls in November, portraying himself as a stark contrast to President Barack Obama during a campaign stop Tuesday afternoon.
"This is a vision of government that's entirely foreign to anything this nation has ever known," Romney said about the Obama administration. "The idea of a larger and larger government taking more and more from the people."
Romney - who promises to create 12 million jobs and increase take-home pay if elected president - arrived at the Dayton International Airport in grand fashion, descending the stairs from his jet to a podium on the tarmac where he was joined by vice presidential nominee Paul Ryan and U.S. Sen. Rob Portman as "The Boys Are Back in Town" blared from speakers.
The former Massachusetts governor commented on the contributions of Wright-Patterson Air Force Base before explaining his presidential vision of halting an expanding government and championing free enterprise.
"This is an election which is a dramatic choice for the American people," he told the crowd of 2,000-plus. "It's a question about the soul of America, what America is going to be."
Obama's plan for the future, according to Romney, is a repeat of what he said four years ago - that an expensive and intrusive government of bureaucrats, one that spent $90 billion on green energy companies, fundamentally knows better than a free people.
"His plan is to continue to do what he has done before," Romney said. "The status quo has not worked. We cannot afford four more years of Barack Obama. We're not going to have four more years of Barack Obama."
The deficit has doubled under Obama and 23 million people are struggling to find good jobs, Romney said.
"His plan is another stimulus," the candidate said. "How'd that first ($800 billion) one go? ... how much of that did you get?"
Obama now wants to raise taxes to grow the economy, including increasing the federal income tax on small businesses from 35 to 40 percent, Romney said.
"What that will do is kill jobs," he said. "This is a president who is bent on growing government. I am bent on growing jobs and raising take-home pay and will do it."
Romney said Obama's single largest source of funding comes from the teachers union.
"I just think the president of the United States should be focused on the needs of the kids, not focused on the needs of the teachers union," he said.
Romney unfurled his turnaround plan of restoring the principles inscribed by the founders in the Declaration of Independence - that natural rights come from God, not government.
He also wants to restore free enterprise.
Romney outlined five key objectives of his bid for presidency - energy independence; improved training programs and schools; a balanced budget; small business advocacy; and enhanced trade.
"Trade is good for us," he said. "The people in Ohio can sell products anywhere in the world, and we can compete with anyone in the world."
But the playing field needs to be level, he said.
"When people cheat, that kills jobs," Romney said. "China has cheated, and I will not allow that to continue."
Romney said China cheats by artificially holding its currency down as much as 30 percent; by stealing American intellectual property - patents, designs, know-how; and by counterfeiting American goods, sometimes using American brand names and bar codes.
China has hacked into government computers to look at F-35 design plans, he said.
"We cannot compete with people who don't play fair," he said. "And I won't let that go on. I will stop it in its tracks."
America's leadership is needed in the world, Romney argued.
"This doesn't mean that we send our guns there. This means that we stand up with our economic power, our soft power, our diplomatic power, our principles," he said.
Romney also said America needs a president who considers the the assassination of an American ambassador, the death of 20,000 people in Syria, the ascension of a Muslim Brotherhood leader to Egyptian president and the prospect of a nuclear Iran serious matters, not bumps in the road.
Romney's bus tour will stop in the Columbus, Cleveland and Toledo areas today.