Friday, September 28th, 2012
Grube murders on list
New Ohio program focuses on unsolved homicide cases
By Margie Wuebker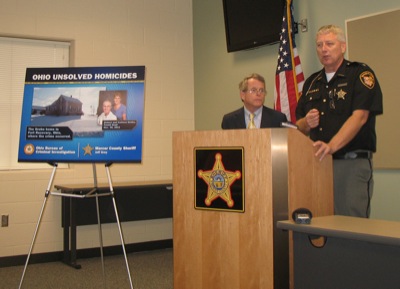 CELINA - Ohio Attorney General Mike DeWine announced a new initiative Thursday that focuses attention on the state's 5,153 unsolved homicides, including those of a Fort Recovery man and his daughter.
DeWine chose to make the announcement at the Mercer County Sheriff's Office because he said the Nov. 30 deaths of 70-year-old Robert Grube and 47-year-old Colleen Grube continue to haunt him.
"Any homicide is a tragedy," he told The Daily Standard. "When one homicide - let alone two - take place in Mercer County, it's a total shock."
Robert Grube, who was disabled and in a wheelchair, and Colleen Grube, who had recovered from a stroke and come home to care for her father, were bound with duct tape and shot to death in the living room of their Burrville Road home. Authorities believe they were targeted with robbery as the likely motive.
The Grube murders are among the 166 unsolved homicides listed on the state's website,
www.OhioAttorneyGeneral.gov/OhioUnsolvedHomicides
. DeWine's initiative is working to upgrade that site to include information on all 5,153 unsolved cases.
His office has sent out more than 17,000 letters to law enforcement officers throughout the state, asking them to provide the needed information. The Montgomery County Sheriff's Office and the Dayton Police Department already have agreed to share information regarding 445 unresolved murders in their jurisdictions, DeWine said.
The idea for compiling a central database came about in 2010 after Roger Davis, a special agent with the Ohio Bureau of Criminal Investigation and Identification, received inquiries from out-of-state authorities regarding possible murders that had occurred in that state.
The database will allow officers to check and compare cases, along with giving the public a centralized location to leave information and tips.
"We hope to bring closure and justice to as many cases as possible," DeWine said. "All victims and their families deserve justice."
Many of the cases on the website are considered cold cases, but neither Sheriff Jeff Grey nor DeWine feel that description applies to the Grube murders. Information continues to come in, and a $20,000 reward has been offered for information leading to the arrest and conviction of the perpetrator(s).
"I have a very positive outlook that we will find Robert and Colleen's killer," Grey said. "We have made progress."
Grey believes the involvement of BCI & I since day one of the investigation has made a difference.
"Without the partnership, the case could have been in a box on the shelf," he said. "This is how local law enforcement and state law enforcement is supposed to work together. I applaud the attorney general's effort to draw more attention to not only our case but also to other unsolved cases throughout the state."