Saturday, September 8th, 2012
The Battle for Fort Recovery
Local village gears up for third-annual civil war re-enactment
By Eric Adams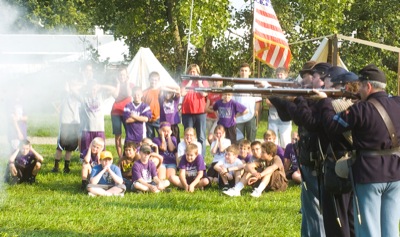 FORT RECOVERY - Fort Recovery construction worker Chris Bechtol thinks he deserves to be fired and divorced. For the past week and a half, he has seen his family only about 15 minutes per day and has fielded a nearly constant stream of phone calls at his job. And he's doing it all for costumed actors and pyrotechnics.
For the third consecutive year, Bechtol volunteered as the primary orchestrator of Civil War at the Fort, a re-enactment now held annually at Ambassador Park.
Women in frock dresses, heavily bearded men with muskets and 19th century cannons abounded the park Friday morning in preparation for festivities today and Sunday. Area school children also were invited to the park Friday for demonstrations and presentations.
The Fort Recovery Ambassadors Association sponsors the annual event and has left no stone unturned in setting it apart from others in the region. This year the event will include an additional element of realism - explosions.
"During every battle, we're blowing up a building," Bechtol said.
A Lima-area Confederate soldier re-enactor also was happy to see this addition.
"The only events that have pyrotechnics are the national ones (hosted at Gettysburg and other prominent Civil War battle sites) and Fort Recovery," he said. "Makes it a lot of fun for us re-enactors."
Abraham Lincoln impersonator Jim Crabtree was at the park Friday to speak to students. He said he wanted the children to relate to Lincoln personally instead of simply hearing the well-known facts about his presidency.
"Lincoln was a kid, just like they are today," Crabtree said. "He was rowdy and played practical jokes on his mother."
Local Red Cross executive director Deb Hemmelgarn, who was helping oversee activities Friday, said such an event requires a great deal of community support.
"The Fort Recovery Ambassadors are a great group; very hard-working and they are all volunteers," Hemmelgarn said.
She also remarked that the event is an excellent opportunity for school children from St. Henry, Coldwater and other nearby districts to learn history in an interesting, engaging fashion.
Civil War at the Fort festivities last until 3 p.m. Sunday, with key events including an artillery night fire, a fireworks display and full-scale battles with gunfire and cannon blasts. A $5 admission is charged each day.

Civil War at Fort:
Today
1:15 p.m. - Live artillery demonstration
3:30 p.m. - Battle
4:30 p.m. - Cooking contest
7 p.m. - Civil War Grand Ball
9 p.m. - Artillery night fire
9:15 p.m. - Fireworks show

Sunday
10 a.m. - Battalion drill
11 a.m. - Mid-19th century fashion show
Noon - Gatlin Gun competition
1 p.m. - Jefferson Davis and Abraham Lincoln
1:15 p.m. - Presentation by Ohio Valley Civil War Association
2:15 p.m. - Battle