Tuesday, October 2nd, 2012
St. Marys gives O-G first loss
Martinez-Rodriguez scores only goal for Roughriders
By Gary R. Rasberry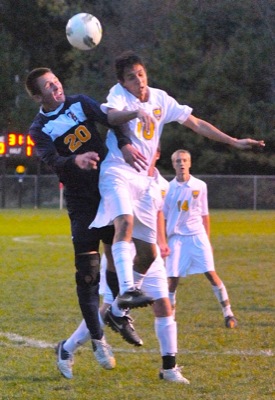 ST. MARYS - Patrizio Martinez-Rodriguez's rebound goal 26 1/2 minutes into Monday's Western Buckeye League boys soccer match proved to be the game-winner as St. Marys defeated previously unbeaten Ottawa-Glandorf 1-0 at the Intermediate School.
The Roughriders are now 10-0-3 overall this season and 5-0-2 (17 points) in WBL play. The Titans, ranked sixth in the most recent Division II state poll, drops to 11-1-0 (6-1-0 WBL) but they maintain their lead in the league standings with 18 points.
"They've got the great heart of champions," said St. Marys' coach Dave Ring, whose squad beat Bath earlier this season when the Wildcats were ranked third in the Division II state poll. "They're young and still learning the team, still learning how to be at this level. It's fundamental to play these caliber of teams."
"We always come out pumped up against these teams," said Roughriders' senior forward Brennan Brown. "We're always ready for their team."
The offensive breakthrough of the scoreless tie came with under 14 minutes left in the opening half. Off a corner kick, St. Marys' Dylan Zink got a boot on the ball, and the deflection went to Martinez-Rodriguez, who knocked it past the outstretched arm of Titans' goalie Tyler Ellerbrock with 13:38 on the clock.
"Awesome! It was exactly what we've been working on. We've been working on our finish," said Ring of the score. "Get that finish and get it taken care of. That's what we did. We've been practicing for a week on finishes."
As the second half wore on, and the rain began to fall a little steadier, but St. Marys' defense was up to the task of not allowing the the equalizer. O-G outshot St. Marys 9-2 in the second half, but the Roughriders' Luke Leffel made five saves to preserve the shutout.
"Defense played great," said Brown. "(They) kicked it out and cleared it well. It was a great performance."
St. Marys took nine shots on goal and had a couple opportunities to add insurance goals, but could not connect.
"We still left four (goals) on the table that we didn't put away," said Ring. "But, O-G left two or three themselves. Great game. Hats off to O-G. They deserve the ranking that they have. It was a pleasure to play them."
St. Marys stays in WBL action on Thursday with a road trip to Van Wert.