Friday, October 12th, 2012
Coldwater repeats sweep of team titles
Midwest Athletic Conference Cross Country Meet
By Bruce Monnin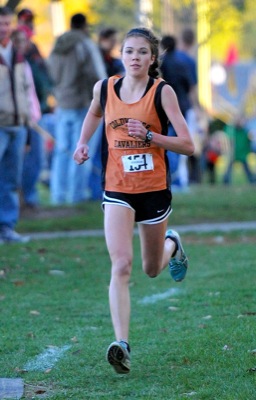 COLDWATER - A year ago, Coldwater became just the second school in Midwest Athletic Conference history to win both the boys' and girls' cross country championships in the same season. This year the Cavaliers repeated the feat, using great performances to win by an extremely small margin in each race.
Coldwater's girls were slight favorites after a one-point victory over Minster at last week's Lions Invitational on the same course. This week the Cavs expanded their margin of victory to four points, winning by a 32-36 score.
Coldwater's Sarah Kanney repeated her win from last year with a time of 17:47, and her teammates Christian Seas and Jill Kanney finished second and third. However, the key to the Cavs' win was fifth-place runner sophomore Ashley Schoenherr. She shaved 48 seconds off her time from last week, thus reducing her contribution to the team score by at least seven points.
Schoenherr was thrilled to be part of a second MAC championship team.
"It was a team effort out there," stated Schoenherr. "We all inspire each other and want to reach our common goals of winning the MAC and possibly a state championship. We came so close last year."
Minster also placed a trio of runners near the top, with Julia Slonkosky, Hannah Butler and Katherine Burke claiming the fourth-through-sixth places. Slonkosky followed up her win in last year's junior high race with a time of 19:16, a 48-second improvement on the mark she posted last week.
Fort Recovery's Elle Sutter was the highest-placing runner not on the top two teams as she finished in eighth place with a time of 19:39.
The boys' race was a three-way battle among Coldwater, Minster and St. Henry. At the one-mile mark, Coldwater had a two-point advantage over Minster, but the Wildcats reclaimed the lead at the two-mile mark. A late surge gave the Cavaliers the victory by one point over Minster and by seven points over St. Henry.
Individually, the race was dominated by last year's champion, Versailles' Sam Prakel. Prakel finished with a time of 15:34, six seconds slower than his own MAC record. The second-place runner, St. Henry's Aaren Hemmelgarn, finished 41 seconds behind Prakel.
Coldwater's senior Riley Kuess finished ninth overall and was thrilled with his team's effort.
"Jon Wenning had a spectacular run. All of our guys did," complimented Kuess. "We were all motivated and now we are MAC champs!"
Wenning did indeed have a good run. He finished third with a time of 16:16, 24 seconds faster than he ran last week.
"I'm just amazed at how much I took off my time," admitted Wenning. "It has to be because it is the MAC meet. That's what we train for. We want to win the MAC."
The winner of the junior high boys' race last year, Dan Seas, finished fifth to give the Cavaliers a third All-MAC performer.
Second-place Minster was led by Eric Dahlinghaus' fourth-place effort. Andy Albers was sixth and Andrew Fausey was 11th. Those three all-MAC performances helped the Wildcats finish seven points ahead of third-place St. Henry. Along with Hemmelgarn, the Redskins also placed Spencer Schulze and Clayton Bruggeman in the top 12.
In the junior high races, the boys' team title went to St. Henry in the only runaway win of the meet. Parkway's Caleb Rollins took top individual honors with a time of 11:07. The girls' title went to Minster, which posted the same score as Versailles, but the Wildcats won the tie breaker thanks to having the better sixth-place finisher. Morgan Pohl crossed the finish line in first for the Wildcats with a time of 12:16.
All the local teams (except for Versailles) will be in district competition next Saturday at Liberty Center.