Tuesday, October 16th, 2012
Luebke recovering well from arm injury
By Gary R. Rasberry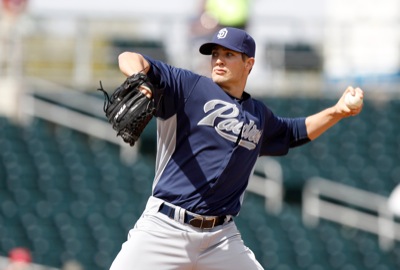 The recovery from Tommy John surgery can be a grueling process, but it has gone well thus far for Cory Luebke.
The San Diego Padres' left-handed pitcher has been working hard after the surgery to replace the Ulnar collateral ligament in his pitching elbow and his recovery has been steady.
"We had another good exam right before the season was over," said Luebke via telephone on Monday from San Diego. "Strength-wise, they thought I was beyond where I needed to be. They told me to take it easy for a week or two and recharge the batteries. Things felt good, so they wanted to give me a break."
Luebke had a record of 3-1 with a 2.61 earned run average for the Padres before experiencing pain in his left elbow. Tests showed that his UCL had split in the middle. After weighing his options, Luebke chose to have the surgery in late May.
The surgery, performed at the Kerian-Jobe Clinic in Los Angeles, placed a new tendon in his elbow. The normal recovery process called for working to keep strength in the upper body, with no throwing for at least 16 weeks. "The first six to eight weeks, all we worked on is mobility," said Luebke. "Just light movements to gain all the mobility. ... They say you find out if the surgery is successful if you gain full mobility back in those first 6-8 weeks. The second is when you start throwing hard again and it comes out the same (as before the surgery).
"It was good to get past that step (full mobility) without having any hiccups or anything. We're almost into the normal type of strength and weight lifting. The last part of the process is being able to throw the ball. Last few weeks, I've been able to do some stuff. So far, it's all good."
Luebke admitted it was a little tough to watch his team, which improved five games from last season to finish 76-86, while he was on the sidelines, although he wasn't alone when it came to having to rehab his injury.
"Half the battle is mental," said Luebke. "Whether it was a good or bad thing, we had 12 or 13 season-ending surgeries or surgeries in general on the team. There were plenty of guys to talk to at the rehab facility while rehab was going on. When you're watching them play games, you feel a little bit of detachment. It did feel weird, but you try to find something to do, try to stay busy. Now that we're in the offseason, I feel like I'm back into a normal schedule. We'll see how things go when they're back out there playing without me."
The rehabilitation process will continue through the winter and into Spring Training. The usual recovery time for Tommy John surgery is a year, meaning that it will be into June of 2013 before Luebke could return to the game.
"You try and and take it step by step. Keep working on what you can work on," said Luebke. "For the next few weeks, it's just focusing on the training side. In about three weeks when I start throwing, it's a few minutes at 40 feet (apart), then it slowly builds up until I get back on the mound early next season. It's a lot when you look at it from that standpoint, but when you look at it as starting to play catch in a few weeks, then after that, backing up to 90 feet and keep working your way back. You look at the little goals to keep things moving forward."