Friday, October 19th, 2012
YMCA solar field progressing
By Eric Adams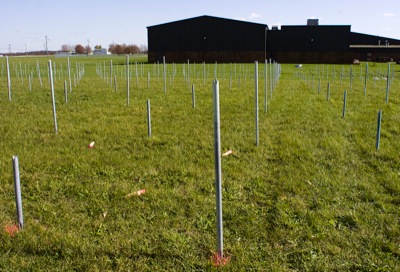 CELINA - A large network of poles standing near the Auglaize Mercer Counties YMCA North Branch will soon be developed into a power source for the facility.
The poles off state Route 703 are the groundwork for a 500-panel solar field that will supply roughly 521,680 kilowatts of power annually to the fitness center. 
Larry Stelzer, president of the local YMCA Board of Directors, did not have estimates when reached for comment Thursday, but said the monetary and energy savings would be "fairly significant."
The Y is not putting any funds into the project.
Stelzer said Solar Planet, a Columbus-based company, approached the Y board six months ago with a proposal for the field.
"The cost of the installation and the upkeep and maintenance of the system is being provided to the Y at no charge by Solar Planet," Allen Baskett, CEO of the Y, said in a press release.
The field will measure 500-by-140 feet and is set to be completed in January.
"I think (this project) is very proactive," Stelzer said. "Ours will be the first Y in the area to have something like this."
Working in collaboration with Solar Planet are privately contracted groups Alex Products Alternatives, whose closest headquarters are in Paulding, and Settle-Muter Electric of Columbus.
APA workers will be building the field during the next two weeks, after which SME will help add the necessary electronic components.