Saturday, October 6th, 2012
Flyers feature running game in win over Redskins
By Randy Bruns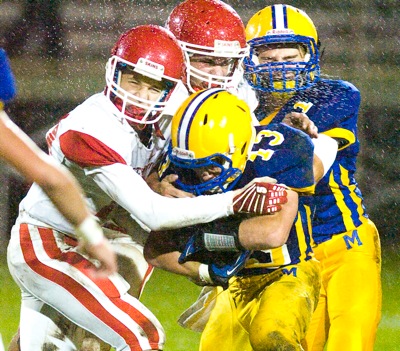 MARIA STEIN - The Marion Local Flyers' football team battled both the St. Henry Redskins and Mother Nature on Friday night at Booster Field, and they emerged victorious on both counts.
The Flyers built a big lead and staved off a comeback by the Redskins to garner a 38-22 victory in soggy conditions.
Marion Local is now 6-1 overall and 4-1 in the Midwest Athletic Conference, one-game behind league-leading Coldwater.
A steady rain and a stiff breeze typically will stymie offensive attacks of all kinds, but both teams piled up big yardage (746 combined) and first downs aplenty (42 total). The difference was a 13-minute stretch in the middle of the game when the Flyers took advantage of excellent field position to rattle off 24 unanswered points.
Marion scored on its first possession but St. Henry (4-3, 2-3 MAC) later tied things at 7-apiece late in the second quarter. As it turned out, it wasn't late enough, because the Flyers' Adam Bertke ran the two-minute offense to perfection. The junior quarterback was 4-of-5 passing for 33 yards and rushed for 20 more yards before Hunter Wilker took a counter pitch and sprinted 13 yards into the end zone for a 13-7 halftime lead.
The Flyers caught a break early in the third quarter when the Redskins coughed up the wet football, allowing Bertke to later sneak in for a score. Jacy Goettemoeller got into the scoring act on the hosts' next two possessions, as the sophomore reeled off touchdown runs of 40 and 31 yards to give the Flyers what looked to be an insurmountable 31-7 advantage.
Somebody forgot to tell the Redskins the game was over, though.
Kyle Stahl led the visitors on a 91-yard scoring drive that he capped with a 21-yard touchdown pass to Adam Reichert, and after a two-point conversion pass the Redskins were only down by two scores with plenty of time remaining. The drama intensified when the visitors recovered the ensuing on-side kick and again drove deep in Flyers' territory. A holding penalty negated a touchdown pass, though, and the Flyers' Dustin Rethman picked off a pass in the end zone to end the threat.
Goettemoeller then put the game on ice for the Flyers when he bolted 79 yards up the middle for a touchdown to push Marion Local's lead to 23 points.
"This was a great win for our team," stated Marion's coach Tim Goodwin. "With our situation health-wise being uncertain, our kids just played hard and the coaches are proud of them. We played most of the night with just three seniors on the field, but our kids don't care. They just play."
Though Bertke was crisp throwing the ball, 11-for-15 for 102 yards, it was the Flyers' rushing attack that proved decisive. Bertke carried 16 times for 101 yards while Goettemoeller notched 196 yards on just 17 totes.
"We have to be a lot better defensively up front," admitted St. Henry's coach Jeff Starkey. "We have to do a lot better job stopping the run than we did tonight."
Marion Local has a tough task next Friday with a road trip to unbeaten Coldwater while St. Henry hosts winless Parkway.