Tuesday, October 9th, 2012
Making a safer lake
Volunteer coast guard looking for new memberts
By William Kincaid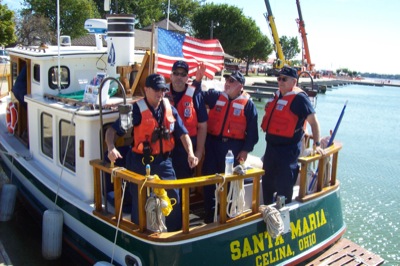 GRAND LAKE - Whether pulling distressed boats to shore, securing safety perimeters or inspecting vessels, a local crew of civilian volunteers is making the waters of Grand Lake safer to roam.
"And the value of that is we take the pressure off the watercraft officers, the ODNR and (law enforcement) ... so that they can do their jobs," Larry Baker, commander of The Grand Lake St. Marys flotilla of the U.S. Coast Guard Auxiliary, said.
The flotilla is completing its first year as an officially chartered organization and is seeking new members.
"We want to help the lake - the lake's coming back - and we need help to help," Baker said, adding people of all backgrounds, including ex-military, are invited to join.
Applicants are not required to own boats or even know much about them. And, they don't necessarily have to get their feet wet if they can contribute to non-water duties such as treasurer, secretary and deliverer of safety and legal brochures to local marinas.
"All you have to be is 17 years old," Baker said.
Flotilla members will host a recruitment meeting at 7 p.m. Oct. 24 at the Franklin Township Montezuma Fire Department.
The group was officially chartered in January during a ceremony at Celina Moose Lodge.
The group had been operating as a detachment of the Indian Lake flotilla since 2003 and could not become a full-fledged flotilla until it had 15 members, according to Baker. The group now has 18.
"Most were boaters," Bakers said about initial members. "One guy who's been with us a long time sells concrete forms."
Other members include a postmaster, a school business manager, a real estate agent and a banker, Baker said.
"We're most active from boating safety week at the end of May until Labor Day," Baker said, adding the flotilla's uniformed volunteers are considered civilian members of the U.S. Coast Guard.
The flotilla patrols the lake heavily during holiday weekends and special events; teaches boating safety classes; provides free vessel safety examinations for the public; and secures safety perimeters at the Celina Governor's Cup Regatta and fireworks shows on the lake.
Baker said members don't have arresting powers and don't carry guns.
"We're not confrontational - we can't be," he said.
During free vessel examinations at boat ramps, flotilla members make sure boats are equipped with the proper state-mandated safety equipment. Interestingly, a third of of the boats inspected fail, Baker said.
The group also will tow stranded or inoperable boats, which frees up other agencies that enforce laws, Baker said.
"Having them out on the water on holidays and special events and high traffic (days) really helps," Mercer County Sheriff Jeff Grey said, adding flotilla members add another set of eyes for public safety.
Grey said the job of towing boats formerly was the responsibility of law enforcement.
"I just think it's a huge benefit to the people that use that lake," Grey said. "I think they have done an excellent job recruiting members and being out there. There is not a cost to Mercer County to have them."
Three of the flotilla's 18 members allow their boats to be used for missions. They are reimbursed for fuel and receive small maintenance stipends.
Baker said the U.S. Coast Guard Reserve was formed by act of Congress in 1939.
"When World War II broke out, the Coast Guard needed a reserve and changed our name to auxiliary," he said.