Tuesday, October 9th, 2012
Celina captures WBL title
By Gary R. Rasberry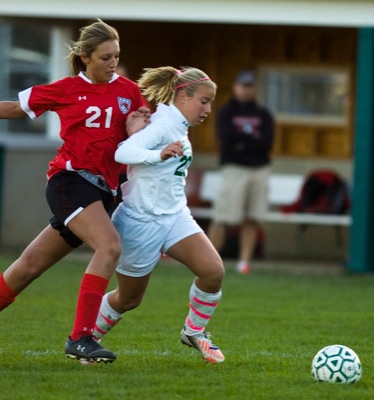 CELINA - Any concerns Calvin Freeman might have had that his team would come out flat on Monday against Kenton quickly dissipated.
The Bulldogs scored nine goals in 21 minutes and clinched the Western Buckeye League girls soccer title with an 11-0 win over the Wildcats in a rescheduled match at the Soccer Stadium.
Celina improves to 8-0-0 in the WBL with 24 points (three points for each win, one point for each tie), and although league teams have one more match to play, no team will be able to overtake or tie Celina.
"We worked really hard," said senior Beth Parker. "We pulled it through and won it for coach MP (assistant coach Wendy Mitchell-Payne, who is away from the team after the passing of her newborn child last week). We're dedicating the title to her."
"We have such good team chemistry," said senior Taylor Guingrich. "We all get along. We all have a common goal: to win the WBL. Now, our other common goal is to beat Bath (regular-season finale tonight) and go far in tournament. We're basically a family; that's as good as I can describe it."
Freeman, the veteran Bulldogs' coach, was a little concerned that his team would be looking ahead to tonight's matchup at Bath and overlooking a Kenton team that had a 1-6 record in league play.
Katie Stahl started Celina's scoring flurry with just over three minutes elapsed off the clock with a rebound goal. By the time 10 minutes went off the clock, Hillary Heiby had two goals, Molly Waterman had the first of her two goals and Beth Parker had the first of what would be a hat trick as Celina led 5-0 with 30 minutes still to play in the opening half.
Waterman added a second goal in the next 11 minutes of play while Elyssa Sheriff was the only non-senior to score a goal in the first half. Parker scored her second and third goals and Celina led 9-0 by halftime.
"I just thought they might come out a little flat, knowing they have tonight's game and tomorrow night's game" said Freeman. "They came out hitting on all cylinders. I'm proud of what they accomplished so far this season. Hopefully, the best is yet to come."
Freeman subbed more frequently in the second half, as Holli Brackman and Caelyn Reineke each scored to wrap up the Bulldogs' scoring.
Now the goal for Celina is simple: to complete a perfect run in the WBL.
"We're one more rung closer to the top," said Freeman. "We hit the WBL championship on the second to last rung, but we still have a challenge before us in Bath, and they're a very good team. We're going to have our hands full tomorrow, but definitely going in there with some excitement."