Friday, November 2nd, 2012
Rockford's chamber honors business, citizen
Nursing facilities, long-time community volunteer recognized
By Amy Kronenberger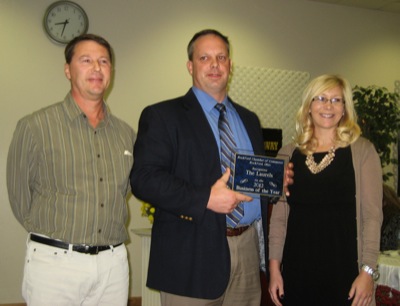 ROCKFORD - A local citizen and business were honored for their service to the community during the 39th annual Rockford Chamber of Commerce banquet Thursday.
Resident Nancy Leighner was awarded Citizen of the Year while Steve Schaaf, administrator of the Laurels of Shane Hill and Maplewood of Shane's Village, accepted the award for Business of the Year.
Leighner has served as historian of the United Methodist Church, coordinating material with Grace Church, and was pivotal in bringing the splash pad to Rockford park.
She regularly visits shut-ins, helps make welcome baskets for new homeowners, attends every benefit and function that helps Rockford, works with the Kids Club after school, helps when the blood bank comes to town, attends all youth sporting events, reads to students at Parkway Local Schools and is a member of the Chamber of Commerce, the Rockford Area Development Corp. and more.
Before giving Leighner her award, the chamber presented a slide show, giving a summary of her life. She is a native of Phillipsburg, near Dayton, where she lived on a farm. She was crowned May Day Queen her senior year and graduated from Phillipsburg High School as valedictorian of her class.
After graduation she worked at Wright-Patterson Air Force Base for a short time before marrying her husband, Roy, in 1956 and moving to Rockford.
She and Roy have three children, Cynthia Thompson, Georgetown, Texas; Penny Moffett, Ypsilanti, Mich.; and Rodney Leighner, Dayton.
Leighner also worked as an executive secretary for a community health center in Van Wert, drove school bus for Parkway and worked for Teleflex in Van Wert.
Mercer County Commissioners John Bruns and Bob Nuding presented Leighner a proclamation.
"On behalf of all the little boys and girls ... and some of them aren't going to know you, but I know without you, there'd be no splash pad," Bruns said.
Bruns said he knew Leighner had done a lot for the community but "when I heard you were a bus driver, I knew you deserved this."
Leighner said although Rockford is very similar to her hometown, she would never want to go back.
"I love this town," she said. "I never thought I'd get this, never."
To celebrate her 75th birthday this year, Leighner completed her first 5K. She said she has no intention of slowing down or retiring.
"No, I won't stop," she said. "I will keep going as long as I can."
Last year's Business of the Year winner Ed Burtch of Burtch Seed presented Schaaf and director of marketing Leah Hays with this year's business award. Bruns and Nuding also presented a proclamation.
The Laurels have been a part of the community since 1974 and since have donated their time and money to many events, activities and organizations.
They organize a themed meal with entertainment every quarter called Prime Time Diner with proceeds going back into the community. They also sponsor a free Valentine's Day dance and meal with all donations going to the Leota Braun Foundation.
This fall they began hosting the school's Head Start preschool program, allowing an opportunity for kids and seniors to interact.
They currently have 116 employees and 40 volunteers.
"We wanted to get more active in the community, be a part of the community, be visible and supportive of the community," Schaaf said. "We  worked really hard, and we feel like this award validates those efforts. We really appreciate this."
Bruns said he's had a family member in a nursing home for the last seven years and knows the importance of having a good facility in a community.
"I know how much of a service you and your people do," he said.
Other speakers at the banquet included Jane Cozad, chamber president; Bryan Sutton, chamber vice president; Rev. Marvin Schwartz, New Horizons Community Church; Bob Maurer of the Leota Braun Foundation; Greg Puthoff, superintendent of Parkway Local Schools; and mayor Amy Joseph.