Monday, November 5th, 2012
Strong showing for local D-III athletes
Division III State Cross Country Meet
By Bruce Monnin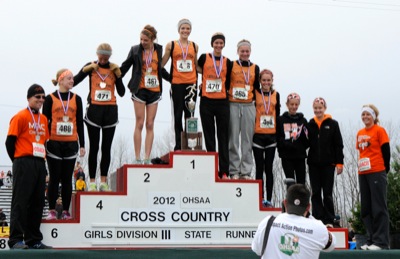 HEBRON - Four local cross country teams and one individual from the Grand Lake area competed in the state cross country meet on Saturday at the National Trail Raceway in Hebron.
Both the Coldwater and Minster girls' teams arrived with hopes of winning the state championship after taking their respective regional titles the week before. After the runners had finished the course, they were among five teams who knew they were near the top of the standings.
As coaches and parents desperately searched on their smart phones for the results to appear on the Internet, a roar arose from the Liberty Center team as they were informed they had won their second consecutive state title.
First year Coldwater coach Marty Schoenherr felt his team was probably in fourth place after they crossed the line, so he was quite pleased when his Cavaliers finished in second place, just 15 points behind the state champions.
"I just asked the girls if they gave everything, and they said they had," said Schoenherr. "This whole week I could tell they were going to do well."
Coldwater's Sarah Kanney won the individual race in a time of 17:58 while Cavs' junior Christina Seas was the second Coldwater runner to finish. Seas' time of 18:33 was her best time this year, and only four seconds slower than her career-best time she set at last year's state meet.
When describing her result, Seas explained that she might as well give it everything she had since it was the last race of the year.
"I started off in about 30th place," said Seas. "When I heard the crowd I got excited, and moved up into fourth place. Two girls passed me late but I held on to sixth place."
Senior Jill Kanney was the third Cavalier to finish with a time of 19:20, followed shortly by sophomore Lauren Seas with a personal best time of 19:33. Lauren's old personal record had come during the Midwest Athletic Conference meet at Coldwater, another relatively flat course. "I just like the flat courses better than the hills," confirmed Seas.
Ashley Schoenherr (21:09) finished in the fifth and final scoring position for Coldwater, followed by Stephanie Honigford (21:19) and Megan Kinninger (21:43).
Minster's girls felt emotions opposite of Coldwater's as the Wildcats thought after the race that they had finished in either first or second place. The top five Wildcats' runners all finished under 20 minutes, which is usually the recipe for a state title. The Wildcats were disappointment they finished fifth (45 points behind Liberty Center).
Minster was led by their lone senior, Hannah Butler. This was Butler's fourth year running at the state meet, and her time of 19:16 was 35 seconds faster than her results from any of the three previous state meets.
Minster showed the depth by placing all seven of its competing athletes higher than the fifth-place runner from Coldwater (and most other teams). Lisa Barlage finished 45th with a time of 19:39, just barely ahead of teammates Julia Slonkosky (19:46), Katherine Burke (19:48), Leah Niekamp (19:58), Gabrielle Barga (20:25) and Kaci Bornhorst (20:38).
Minster's boys made their first appearance at the state meet since 2008 and St. Henry's boys made a return to the state meet for the sixth year in a row.
Wildcats' senior Eric Dahlinghaus and Redskins' senior Aaren Hemmelgarn led the way for their respective schools and Coldwater's sophomore Jon Wenning was also fighting for one of the podium spots.
Dahlinghaus led the trio of top local runners, but as he reached the dirt homestretch, he was still too far back in the standings to reach the podium. He looked strong at the finish, passing two or three competitors and finishing third among a group of four who lunged across the finish line together. The closing effort allowed Dahlinghaus to finish 15th with a time of 16:11, the highest place at the state meet for a Minster runner this century.
"Usually I go out slow and pick up the pace at the end, but this was really fast," described Dahlinghaus. "The whole thing was tiring."
Finishing just four seconds behind Dahlinghaus was Wenning and his time of 16:15 was good enough for 22nd place, a 29-second improvement on his state meet performance from last year. Wenning felt the flat course reminded him of his home grounds at Coldwater.
While happy with his result, Wenning felt it was weird to run as an individual instead of with his team.
"You try to get pumped up before the race but it is tough without having the team around," said Wenning. "Fortunately I had two teammates who came and tried to help out."
Hemmelgarn crossed the finish line 10 seconds later in 30th place. Although he finished 30 seconds faster than he did last year, he did not find the race to be any easier.
"The competition was so much tougher this year," admitted Hemmelgarn. "We were all trying so hard to finish well for Coach (Mike) Eyink's last race."
Andy Albers was Minster's next runner to cross the finish line and his time of 16:41 earned him 45th place and helped the Wildcats to an eighth-place finish in the team standings. Ben Butler followed with a time of 17:16, followed by Dominic Slonkosky (17:23), Jonathan Fausey (17:24), Ted Trzaska (17:56) and Andrew Fausey (18:29).
St. Henry finished 10th in the team standings, two spots behind their best-ever finish of eighth place last year. Spencer Schulte was the second runner to finish for St. Henry after Hemmelgarn with a time of 16:45, followed by Clayton Bruggeman (17:06), Jacob Rindler (17:27), Scott Knapke (17:36), Ryan Barhorst (18:03) and Alex Hemmelgarn (19:10).