Saturday, November 10th, 2012
Flyers earn tight win over Wildcats
Division VI Football Region 24 Semifinal at Piqua
By Gary R. Rasberry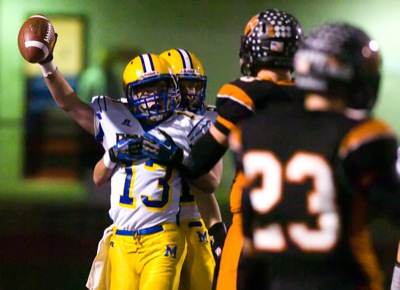 PIQUA - The matchup between Marion Local and Minster proved to be a battle to the finish.
A dominant third quarter by the Flyers proved to be the difference as Marion Local outlasted neighboring Minster 41-34 at the Division VI Region 24 semifinals on Friday night at Alexander Stadium in Piqua.
The Flyers (10-2) now take on another neighbor along Ohio 119, St. Henry, next Friday at a site to be determined. Marion Local won the regular-season meeting 35-21 in Maria Stein. Minster, which is now 1-2 against Marion Local in the last three playoff meetings, ends its season with a record of 9-3.
"Minster's a good team (and has) a lot of good skill (players)," said Flyers' coach Tim Goodwin. "I thought coming into the game this was one of the few times where both offenses had the edge. Usually, I'm dead wrong. Both offenses were pretty darn good in comparison in how they matched up against the opposing defenses."
The Flyers worked the rushing attack for success, tallying 350 yards on 59 carries. Marion Local's quarterback Adam Bertke was effective in the passing game as well, opening the scoring with a 42-yard scoring strike to Jacy Goettemoller. Bertke later fired a 44-yard strike to Hunter Wilker to push Marion to Minster's eight-yard line. Two plays later, Alaric Keller scored on a one-yard burst that put the Flyers up 21-7 late in the first half. Minster then pulled to within 21-14 at halftime after Adam Niemeyer's 6-yard scoring pass to Ethan Wolf.
Minster abandoned the running game during the second half, as the Wildcats only rushed the ball three times in the final 24 minutes of play as Niemeyer tried to take advantage of a young Flyers' secondary.
Korey Schultz picked off a Bertke pass to open the second half and returned it to the Flyers' 17-yard line, but Niemeyer's first pass from scrimmage ended up in the hands of Goettemoeller for an interception to end the drive.
"There's several plays in this game you'd like to have back," said Minster's coach Nate Moore of the interception. "That would be one of them. We made a lot of good plays, too."
The Flyers only scored once in the third quarter, on Goettemoeller's second rushing score of the night, but held the ball for 10 minutes and 40 seconds in the quarter.
Marion Local started the final quarter by pushing its lead up to 21 points on a Bertke 10-yard TD run, but the Wildcats refused to concede.
On Minster's next possession, Devon Poeppelman took what looked to be a reverse handoff, but stopped and fired a 44-yard strike to Jay Eilerman for a score. The PAT kick was no good and the Flyers' lead was 15 points.
The ensuing on-side kick, the ball looked like it would be short of the mandated 10 yards, but as the ball stopped, a Marion player tried to pick it up. The ball was then recovered by a Minster player, but the Wildcats promptly fumbled it back to the Flyers.
Marion Local's ensuing possession then stalled at Minster's one-yard line when Bertke could not break in for the score. Niemeyer moved the team upfield quickly, hitting Poeppelman for a three-yard score to make it 35-27 with 2:20 remaining in the game.
Marion recovered the onside kick and tried to run the clock down. On a fourth-and-one from the Flyers' 41-yard line, Goettemoeller went wide and dashed to pay dirt with 1:56 left.
The quick score allowed Minster another quick two-minute drill, and thanks to a Flyers' pass interference and encroachment penalties, Niemeyer found Wolf for the second time of the night for a score to make it 41-34. The final on-side kick was covered by Marion and the Flyers ran out the final 48 seconds of the game.
"We need to credit Minster. They never quit," said Goodwin. "They have great skill with their quarterback and receivers. We can't forget our secondary is three sophomores and a junior going against some very good seniors and one stud junior. Our kids battled and we came out ahead."
"I'm so proud of them," said Moore. "We lost to one of the best teams in Division VI, if not the best. I'm proud of how they played. If you have to go out, this is how you go out."
Goettemoeller finished with 198 yards rushing on 26 carries and added two receptions for 57 yards. Bertke ran for 110 yards and was 5-of-12 passing for 135 yards.
Niemeyer closes out an outstanding football career at Minster with 251 yards on 25-of-48 passing with two interceptions and four touchdowns. Poeppelman had seven catches for 78 yards with Wolf adding 69 yards on eight catches.