Tuesday, November 13th, 2012
Weekend on wheels
Party bus trend catches on locally
By Eric Adams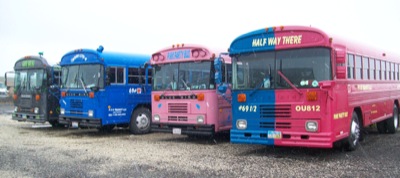 More and more uniquely-painted school buses are roaming the local landscape on weekends.
The party buses are a popular transportation option for wedding parties and groups celebrating birthdays or an occasional night on the town.
Benjamin Amstutz, who manages Club 211 in Celina, said his bar receives roughly one bus per weekend. He said there are times when his bartenders are working "hand over fist to get those drinks out."
"It can make you really busy; that's a difficulty but also a big blessing," he said.
The buses are often used to make bar-hopping trips to establishments along Grand Lake, such as Duckfoot Landing on the south side.
Bar owner Tammy Todd said her staff is accustomed to the heavy bus traffic. She said the sporadic bus arrivals can be overwhelming occasionally.
"It's all been pretty good," Todd said. "Certain places don't have as many parking spaces, but we work together with (the drivers)."
Neither bar owner reported any serious disturbances or fights that resulted from bus-riding customers.
Bill Dues, owner of St. Henry Nite Club, holds a unique position as both a renter and server of party buses. He began a bussing service at the Nite Club in 2004 so he could provide safe transportation to and from nearby Eldora raceway.
In 2007 Dues began to receive other requests for the buses. Now, the three he owns are in regular circulation, especially during warmer months.
"The spring and summer is big for weddings, bachelor and bachelorette parties," he said.
As a bar owner, he sees about five to six buses come to the Nite Club on any given weekend.
"There's times where you can have 10 people in here, then four buses show up and it's (well over) a hundred," he said.
If Dues' buses are booked, he refers people to his friend Jason Hemmelgarn, owner of Maria Stein-based P&B Transit LLC. The company has four buses.
Both men say they started their businesses with the goal of keeping drunk drivers off the road.
Hemmelgarn said he has seen a significant increase in clientele since he began four years ago.
"I've probably doubled in size," he said. "I also bought out another company because they weren't running the right insurance."
Many companies are reluctant to insure the buses because so many passengers become liable and their risk of injury is greater due to intoxication. Dues also mentioned the rising price of diesel as another pitfall to providing the service.
Celina Police Chief Dave Slusser said the only issues his department has had with the buses are disorderly conduct and fights.
"We had in 2011 a pretty major fight between a group from a bus and one that wasn't," he said. "We've (also) had complaints about bus drivers drinking and underage people drinking on buses."
The chief added that to his knowledge no bus drivers have actually been arrested for DUI or pulled over for erratic driving.
These incidents are thus outweighed, Slusser said, by the obvious benefit of party buses: preventing irresponsible decisions behind the wheel.
"I can't give you any kind of numbers, but statistically speaking, about 20 percent of the people on those buses would be driving," he believes. "That's the goal, people can have a good time and not worry about drinking and driving."