Thursday, November 15th, 2012
Small amount of drugs found during check of local schools
By Margie Wuebker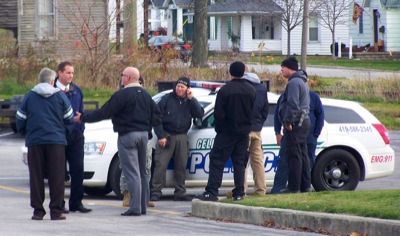 Law enforcement officers and K-9 units found drugs at two area schools during unannounced sweeps Wednesday.
The drugs, believed to be marijuana, were found in cars parked at Coldwater and Celina high schools. Hits also were made at lockers at both schools, but no drugs were found inside.
Law enforcement officers from Coldwater, Celina and other departments conducted the Coldwater sweep as part of the school's mandatory annual lockdown drill.
"This is the first sweep in several years and it worked well as part of the lockdown," superintendent Rich Seas said. "The dogs could roam the halls freely while the students remained in classrooms."
Trained K-9 units reportedly alerted to one group of lockers inside the building and 14 vehicles parked outside.
Coldwater Police Chief Randy Waltmire said a substance believed to be marijuana was found in one vehicle and a pipe containing residue with an odor of burned marijuana was found in another. The investigation is continuing with the students likely facing criminal charges and school disciplinary action.
Officers and dogs then moved to Celina City Schools in the afternoon for searches of the high school, middle school and Tri Star Career Compact building.
Dogs reportedly "hit" on several lockers in the high school but officers found nothing but the residual odor of marijuana on clothing. Several hits were made on cars in the high school parking lot with cigarettes found in one vehicle and marijuana found in another.
A 17-year-old student is facing charges in Mercer County Juvenile Court in connection with the marijuana discovery. Both vehicle owners face disciplinary action as determined by school officials.
Jeffrey Custer, 21, 6636 Beavercreek Drive, Celina, also faces minor misdemeanor charges of possessing marijuana and drug paraphernalia after his car was searched in the Tri Star parking lot. Custer, who also received a citation for driving under suspension, was in the lot waiting to pick up a student at the time.
Celina superintendent Jesse Steiner said such sweeps are conducted periodically in hopes of keeping illegal drugs and other contraband off the school campus.
"We want people to know such things are not allowed here," he said. "Our goal is to keep the schools safe for students and staff."
Seas told The Daily Standard he is concerned about what officers found during the sweeps. While only two vehicle searches resulted in the discovery of drugs or drug paraphernalia, the superintendent finds the other hits troubling. Residual odor indicates an illegal substance was present in the car or lingered on clothing of occupants even though the presence is not cause for charges.
"People need to take their heads out of the sand and realize there are drugs in the community," he said.
He encourages parents to have discussions with their children about the danger of drugs and to keep track of their activities.
"It's going to take a lot of people working together to stop the drug problem affecting this area," Seas said.
In addition to Coldwater and Celina officers, others taking part in the sweeps with manpower and/or dogs were the Auglaize County Sheriff's Office and police departments from Waynesfield, Sidney, Wapakoneta and Lima.