Friday, November 16th, 2012
Train passion rolls on
Hobbyist plans to build track around his Fort Recovery property
By Eric Adams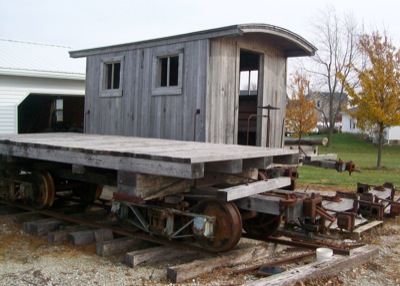 FORT RECOVERY - Growing up next to the railway has made a lifelong impact on Tom Zitter.
Zitter, president of Big K Mills, plans to lay roughly a mile of track around his rural Fort Recovery property for a locomotive he is restoring and five train cars he is recreating.
"When I was 6, we lived right beside the Norfolk and Western yards in Kenova (W.Va.)," he said. "They used to let me ride the steam locomotives around."
The three train cars he is building are reproductions of those that operated on the former Mann's Creek Railroad in West Virginia. From 1886 to 1955, the cars hauled coal along a 9-mile track ending at the New River Gorge.
Zitter's interest in trains culminated in 1976 when he became the owner and operator of Western Ohio Railroad, which includes a track running from Ansonia to Celina and a smaller one connecting Paulding with the village of Latty.
"We did our own track maintenance, our own interline accounting, locomotive maintenance and we operated the railroad," he said.
Zitter held that position for four years and has been occupied with his current hobby, which he fondly calls a "black money pit," for the past 12. His experience and invested time are evident through the meticulous attention he devotes to historical accuracy.
The cars for his replica are unpainted, built from green timber, and rest upon log frames - all characteristics unique to the Mann's Creek Railroad.
"Everything here has to be made new, with the exception of the bolts and steel," Zitter said. "You don't go down and buy a part for these."
He traveled to Pisgah National Forest in North Carolina for the log frames.
"They have a couple of these old log cars down there, and they were kind enough to let me borrow parts to take to my pattern maker," Zitter said, adding he gave officials, in exchange, a history lesson on how the cars were originally made.
Functionality of the cars also will be replicated precisely. Challenges developed with the "link and pin" system - long, oval-shaped rings fashioned from steel - that connected the rail cars.
Brakes on the cars will be operated with brake "wheels" on the outside, just like they were operated years ago. It was the responsibility of brakemen to tighten the "wheels," which were attached by chain to the brakes themselves.
"That was when the brakeman had to work," Zitter said. "(They'd) walk across these moving cars and set each one of them by hand. It was exceedingly dangerous."
Zitter does not have a projected completion date for his project but he plans to invite the community to see it when finished.
The railroad enthusiast recently was appointed to a six-year term on the Ohio Rail Development Commission after serving a few months this summer on an unexpired term.
"If you have a railroad that is there, not being used and someone wants to use it ... we would come along and offer them a loan to rehabilitate that," Zitter said of the commission. "We have the final say for most things, rating crossings and deciding which ones need to be updated."