Saturday, November 17th, 2012
Calories on display for easy counting
By Shelley Grieshop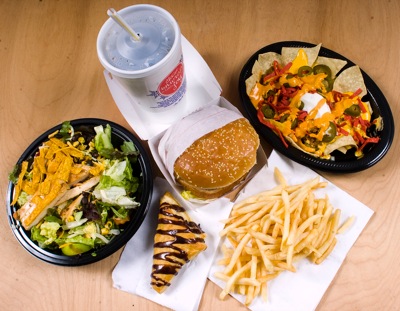 Burgers oozing with mayo and cheese. Piping hot fries glistening with salt. And, oh, those heavenly desserts.
Mega calories? Sure, but who's counting? McDonald's is and recently began sharing the information on its menu boards.
"We've taken a leadership role in this across the nation," said Jeff Monfort, whose family operates several McDonald's restaurants in the area.
The nation's fast food mogul opted to put calorie counts on its menus before pending legislation mandates it. The proposed federal requirement is tied to President Obama's health care reform. If passed, the mandate would effect a restaurant that is a part of a chain with 20 or more locations.
McDonald's is the only local restaurant with calorie counts displayed to the public. Monfort said informing customers that a Big Mac meal packs more than 1,000 calories or that a 22-ounce triple shake has 870 calories hasn't affected sales.
"Honestly, we haven't noticed a lick of difference," he said, adding higher calorie foods are selling at the same pace as before. "People are more informed and that was the purpose."
Customers commented for a day or two after the marquees were altered, he said. Most seemed more captivated with the new color of the now "cluttered" menu. Others have mistaken calorie totals for prices, he added.
"The truth is we've always published nutritional guidelines so it's not that big of an event," he said, adding the restaurant's menu keeps changing to offer healthier foods such as oatmeal and fruit parfaits.
Sarah Lewis, a 31-year-old mother of four, said most people know fast food isn't the best but simply don't care.
"I don't think this will change anybody's habits," the Celina woman said. "Everybody knows that garbage you get in a fast food line is no good for you."
Lewis said she feels guilty feeding it to her family but their busy lives sometimes dictate it. She admits, however, that gazing at the new menu boards has made her think.
"I was surprised to see some of the value meals are well over 1,000 calories," she said. "But we all know that there is no nutritional value in that food before we ever make the turn into the drive-thru."
Peg Lange of St. Henry said the numbers have changed her meal selections.
"I think twice because I want to make sure I don't go over my count of 1,500 (calories per day) and still have some left for later," she said.
She doesn't order certain hamburgers and has downsized her fries to stay within the limits set by her physical trainer.
"Plus, I try to stay away from the cookies," she said. "It's hard."
The recommended daily calorie allowance for women 5-foot-3-inches tall and 138 pounds is 2,200 calories. For men ages 25 to 50, who are 5-foot-8-inches tall and weigh 174 pounds, the max is 2,900. The American Society for Nutrition's guidelines calculate the optimal intake of calories to prevent weight gain and maintain a healthy body.
Roger Rhodes, who oversees 11 Arby's restaurants, including the one in Celina, said the roast beef icon likely will incorporate calorie figures on menu boards in the future, mandated or not. His only fear is the cost to change the marquees.
"We're the number one purchaser of lean meat in the U.S.," he said. "Our beef has always had about half the fat of a hamburger."
Subway franchise owner Jeremy Wenning says the idea of posting calories doesn't haunt him in the least.
"You can take eight of our 6-inch subs, eight bags of apples and eight small Diet Cokes and they still have less fat than one Big Mac meal," he said.
Subway uses heart shapes on its menu near extra heart healthy items. But most people don't seem to notice, Wenning said. For a while he placed small tags with fat tallies on the cookies he sold. Sales remained the same.
"I don't think showing calories is going to change anybody's mind," he added.
County health commissioner Dr. Philip Masser believes customers should have the information they need to make an informed decision.
"I think a lot of patrons are frustrated. They thought they were making good choices and they weren't at all," he said.
Health experts say that choosing something as innocent as a salad can be deceiving if its loaded with cheese, bacon and fattening dressings.
Masser said he's heard good things about the menu boards and would like to see the same transparency from all restaurants. But Lewis questions the government's role in setting such mandates for food businesses. She wonders how far it will go.
"Are pizza places going to have to start giving a calorie total when you place an order over the phone? Online?" she asked. "People aren't as ignorant as we think. We all know that these foods are bad for us."
Recently Lewis' fifth-grader frantically called her from school asking for a packed lunch. Pepperoni and cheese breadsticks had been on the menu but at the last minute were nixed for hot dogs. The cafeteria manager told her the change was prompted by new federal guidelines.
"I just laughed because surely the government doesn't think that hot dogs are any healthier than bread sticks?" she said. "I see what they are trying to do, but it just seems like everywhere you turn now the government is trying to tell us how to live. It's crazy."