Saturday, November 24th, 2012
Bulldogs blow out Greenville in semis
28th Annual OVISCO Classic
By Ryan Hines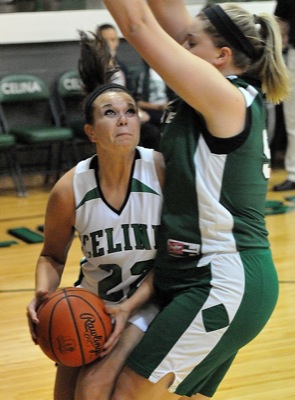 CELINA - Hillary Heiby suffered a small cut under her left eye in the early moments of Friday's semifinals of the 28th annual OVISCO Classic, but that wasn't nearly enough to slow down Celina's senior.
Heiby scored a career-high 23 points and outscored Greenville by herself as the Bulldogs led wire-to-wire and rolled to a convincing 65-22 victory over the Green Wave at the Fieldhouse.
Celina (1-0) will take on Versailles (1-0), a 51-42 winner over Wayne in the other semifinal, in tonight's OVISCO championship game, 20 minutes after Greenville's matchup against Wayne in the consolation final, which starts at 6 p.m.
Heiby sustained a two-inch scratch battling for a loose ball in the opening minute against Greenville but she then scored the first six points of the game and Celina was on its way to a blowout victory.
"It was a small cut and it was watery for awhile, but it wasn't a big deal," said Heiby, who averaged nine points per game last season. "I just tried to be aggressive and take it right at their bigger girls inside."
Heiby converted 7-of-12 from the field and also connected on 8-of-9 at the free-throw line while pulling down a game-high nine rebounds.
"Hillary did a good job of leading us on the offensive end of the floor tonight," said Stetler. "She plays a lot of spots for us and is an undersized post player that did a good job of attacking their size from the high post and the low post. She was very active at both ends of the floor."
Heiby and Kylee Bader led a quick-paced Celina offense in the first quarter as the senior duo combined to score 21 points and propelled the Bulldogs to a commanding 27-8 advantage.
Greenville pulled to within 17 points at the 4:57 mark of the second quarter, but didn't score again until 3:36 remaining in the third quarter with Celina using a 13-0 run for a 44-15 lead.
Celina's man-to-man fullcourt pressure defense caused fits for Greenville all night long as the Green Wave shot just 10-of-37 from the field (27 percent) and 1-of-7 at the free-throw line with 25 turnovers. Greenville scored just eight total points in the second half.
"Our guards did a good job of pressuring their guards and our post players used their quickness advantage to make it tough on them," said Stetler. "We were able to take their size out of the game. We didn't give them a chance to set up in a halfcourt offense and just pound the ball inside."
Bader joined Heiby in double figures with 18 points while Katie Stahl added nine points.
Megan Galloway, an NCAA Division I signee with Detroit Mercy, was just 4-of-12 from the field and finished with a team-high eight points.
Stetler knows that Versailles will be a much tougher matchup in today's championship game.
"Versailles is well-coached and they play hard. They are disciplined and it will be a good challenge for us early in the season," said Stetler.
Versailles, which had nine players dent the scoring column, was led by Courtney Prenger with 10 points. Wayne's Tiara Hunter led all scorers with 17 points.