Thursday, November 8th, 2012
Inmate under suicide watch
Teacher faces three sexual battery charges
By Margie Wuebker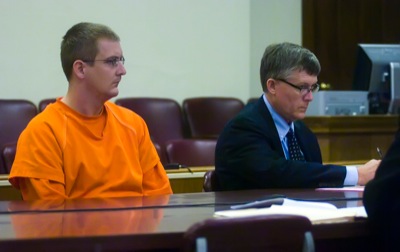 A Fort Recovery High School teacher has been put on suicide watch at the Mercer County Detention Center as detectives continue to investigate his alleged sexual activities with a former student.
Christopher Alan Summers, 32, 671 Woodland Ave., St. Henry, appeared in Celina Municipal Court on Wednesday afternoon on three counts of sexual battery, all third-degree felonies. He was arrested and booked into jail Tuesday afternoon.
Mercer County Assistant Prosecutor Matt Fox, who sought a $1 million bond subject to 10 percent, called the charges "just the tip of the iceberg" in the continuing investigation. All charges reportedly involve one victim, now 18, who alleges the sexual activity went on for nearly three years.
Defense attorney Paul Howell called the state's request excessive. He requested Summers be released on his own recognizance and ordered to obtain counseling.
"I am more concerned about getting him (Summers) help at this point," Howell said.
Summers, an accounting teacher and former girls junior varsity basketball and track coach, reportedly has no prior criminal convictions. There is a pending case involving operating a vehicle under the influence in Jay County, Ind.
Fox pointed out that if Summers is suicidal, incarceration would be the best prospect to assure there is a suspect to prosecute. He offered to work with Howell in securing needed counseling.
Judge James Scheer set bond at $650,000 subject to 10 percent. He also scheduled a pretrial hearing for 4:15 p.m. Nov. 15 to determine if there is sufficient evidence to send the case to grand jurors.
If bond is posted, Summers is to have no contact with the alleged victim or her family or unsupervised contact with minor children. He also would be subject to house arrest with electronic monitoring.
Summers, garbed in orange jail attire and shackled at the wrists and ankles, never looked at his wife or the three women seated with her in the courtroom.
The three charges allege sexual conduct with the same victim in January, February and May of this year. The events reportedly occurred at Summers' home, a hotel in Greenville and an undesignated Dull Road location, according to court paperwork.
The charges also note the father of two young children is a teacher, administrator, coach or other person in authority at a school and the alleged victim was a student at the same school and became acquainted with Summers in 2010 when she was 16.
Paperwork filed by Mercer County Sheriff's detectives alleges Summers cornered her and "compelled or otherwise persuaded her" to engage in a sexual relationship that continued and became more frequent.
Sheriff Jeff Grey said Summers allegedly groomed the victim and threatened to harm himself or expose her to ridicule by revealing their relationship if she did not comply.
"That's a lot of pressure to place on a 16-year-old," he added. "It took a lot of courage for her to come forward."
The victim's mother reportedly alerted authorities Monday after her daughter disclosed allegations of sexual abuse. Both women later went to the sheriff's office.
After Summers was arrested, deputies executed a search warrant and seized computers, cameras, electronic equipment and unspecified items the alleged victim reportedly described.
The teacher was placed on paid administrative leave Tuesday.
If convicted, he faces up to five years in prison and a $10,000 fine on each count.