Saturday, December 1st, 2012
Flyers hold off Wave for sixth state title
Wilker scores game-winning TD with 20 seconds left in the game
By Randy Bruns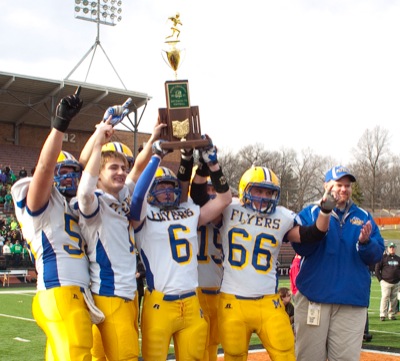 MASSILLON - Why should the final game be any different?
For the last three weeks the Marion Local Flyers' football team had to hang on with white-knuckled grips just to stay alive in the Division VI playoffs, and they survived another cliff-hanger on Friday at Paul Brown Tiger Stadium.
This was the finale, though, and now they are state champions once again.
Marion Local (13-2) put together a gutsy fourth-quarter drive to take the lead and then survived a furious final-seconds comeback by the Newark Catholic Green Wave (12-3) to pull out a 28-21 victory on the state's biggest stage.
The state title is the sixth for the Flyers in the past 13 years, and it is the landmark 100th championship earned Midwest Athletic Conference teams in all sports since the league was formed in 1973.
Things haven't come easy for the Flyers during their playoff run, but in Friday's final they were given a particularly heavy dose of adversity. Sophomore running back Jacy Goettemoeller went down with a knee injury on just the fifth play from scrimmage, forcing coach Tim Goodwin to make some serious adjustments.
"This was probably the toughest game I've ever coached with everything that was going on," said Goodwin. "Losing Jacy that first quarter took a lot of the wind out of our sails until we regrouped. We had to decide what was going to work with the people we had out there at that point. It was kind of a feeling-out process and it hurt us defensively as well because he was going to match him up with number 2 (Newark Catholic's Kevin Bourne) in our man coverages. We had to scramble a little bit."
Though they were scrambling, the Flyers held firm and went into halftime trailing 7-6 after receiver Hunter Wilker took a misdirection option pitch and raced into the end zone with just 19 seconds left in the first half.
The low-scoring first half was not an indicator of the offensive fireworks that would light up the scoreboard in the last two quarters.
Newark Catholic's quarterback Chayce Crouch began the third quarter with a bang when he found Aaron Jurden wide open down the sidelines for a 76-yard scoring strike, and after the PAT kick the Flyers were down by eight points.
Marino Local's quarterback Adam Bertke calmly led his team back, though, by engineering a 69-yard, 11-play drive. Bertke was 3-for-4 through the air and rushed five times before Alaric Keller bashed into the end zone from a yard out. Bertke then found Mark Thobe for the two-point conversion to tie the score at 14-apiece.
After a quick three-and-out by Newark Catholic, Bertke and company went back to work. With freshman Aaron Nietfeld filling in for Goettemoeller at tailback, the Blue and Gold went 62 yards for the tie-breaking score. However, the injury bug hit again during the drive as Nietfeld hurt his shoulder and didn't return. In his place came fellow freshman Wilker, who scored the go-ahead touchdown on an 11-yard sweep.
"The thing is, Hunter is a running back but we played him at receiver all year," commented Goodwin. "It's been really strange for us because normally at Marion Local our kids in junior high are small and under-developed and they kind of mature late. But the last couple of years Jacy and Hunter absolutely dominated junior high football. Hunter was a tailback (in junior high) and basically no one could tackle him in eighth grade, but he hasn't practiced at tailback all year."
The Green Wave would not go away quietly. Crouch took his team 80 yards on the ensuing drive and finished with a 20-yard touchdown pass to Bourne that re-tied the score.
After the teams traded punts, the Flyers got the ball back on their own 24-yard line with 2:25 left on the clock.
It was time for a heavy dose of Bertke, with a little Hunter sprinkled in.
The junior signal caller hit on five straight passes to bring the ball to the Green Wave 13-yard line with under a minute left. From there, Goodwin elected to go to his rookie rusher, and the youngster knew what to do.
Wilker lugged the pigskin twice to bring the ball to the one-yard line, and after each team called a timeout, the freshman took one last pitch from Bertke and followed his blockers to paydirt.
"Alaric kicked out his guy and he had told me that if he kicked him out to go inside," explained Wilker. "I saw a little gap and hit it as hard as I could and just fell into the end zone."
According to Goodwin, his choices were limited for the final play.
"We pretty much always run the same stuff in short yardage, and we were handicapped because we were down to Hunter so we didn't have as many options," stated Goodwin. "Adam calls that play at the line of scrimmage and I wasn't sure if he was going to make it in because he didn't have a whole lot of experience running that play. If he didn't get in we were going to run our field-goal team out there and just kick it on the fly."
Instead, the Flyers just had to hold the Green Wave at bay for 20 more seconds, but those 20 seconds turned out to be much longer than Goodwin wanted them to be.
Crouch hit Bourne on a pair of 27-yard completions to bring the ball to Marion Local's 11-yard line before throwing what looked like an incomplete pass to end the game. However, the Flyers were flagged for pass interference, giving the Green Wave a final untimed down from the six-yard line. Crouch dropped back, looked to his right and fired to Aaron Jurden on a slant pattern, but junior Nate Nagel made the biggest play of his young career by batting the ball away to give the Flyers another gold trophy.
"Nate Nagel making the play at the end of the game – what can you say?" gushed Goodwin. "That kid hasn't played much at all and here they are throwing at him and that son of a gun stepped up and made the play of the game."
Wilker's game-winning touchdown was his third score of the game, capping off a sterling day in which he caught seven passes for 57 yards and ran seven more times for 30 yards.
As always, though, the key to the Flyers' offense was Bertke, who finished 17-for-23 (74-percent) passing for 166 yards through the air and also rushed 27 times for 102 yards.
"I knew something had to be done during that (last) drive but it was the whole team that was making plays out on the field," said Bertke. "The line did a tremendous job of giving me and Hunter room and the receivers made some good catches."
Newark Catholic's defensive coordinator Kelly Bourne knew that Bertke could hurt his team in multiple ways.
"The arm of their quarterback made us keep our safeties high and we like to have our safeties involved in the run game, but his legs made us pay," said Bourne.
Though disappointed in the loss, Green Wave's head coach Bill Franks knew that the matchup between two teams that had 13 state titles between them would generate plenty of interest.
"I was very happy for our community to get to go up against the new giant (Marion Local)," said Franks. "We're the old giant but we haven't gone away because we've won state titles in five decades. It was a unique environment and the media was probably double from the last time we were here in 2007 and I think a lot of that reason was because of our opponent. People were excited for this game and I don't think it disappointed."
As for Goodwin, whose sixth state title as a coach ties him for third on Ohio's all-time list with former Versailles' coach Al Hetrick, this last title was definitely the toughest.
"This championship right here was probably our hardest without a doubt with the road we had to travel and the even type of competition we had to face," summed up Goodwin. "In our past runs there may have been a game or two (each year) where we were really challenged. This year from the second week (of the playoffs) on we were going against teams that were very equal to us. It was just a hard road with a young team."