Monday, December 3rd, 2012
Cavs fight off Hornets for third state title
Coldwater's defense holds strong during the fourth quarter
By Gary R. Rasberry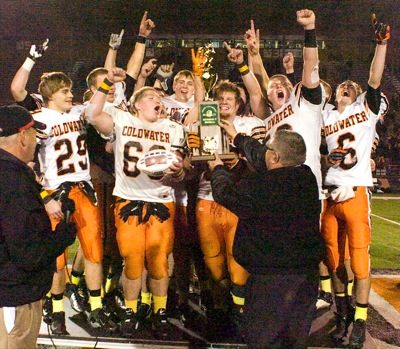 MASSILLON - After three years of silver trophy finishes, Coldwater wanted 2012 to be all about taking the gold.
The Cavaliers' defense stopped Kirtland twice on fourth-quarter drives to preserve a 10-9 win in the Division V state championship game on Saturday at Paul Brown Tiger Stadium in Massillon.
Coldwater avenged its 28-7 loss to Kirtland from last year to win its third state title since 2005 while snapping a streak of three straight runner-up finishes in the state championship game.
"For us, a great game. For the fans a great game," said Coldwater's coach Chip Otten. "For the high school a good game. Two good teams, small town kind of teams."
Coldwater, which last year gave up 410 rushing yards to the Hornets, contained All-Ohio running back Damon Washington and the rest of the Hornets while limiting Kirtland to 147 yards on the ground.
"I thought they would go to him more," said Cavaliers' senior linebacker Zach Dickman of Washington. "We just had a great game plan. We knew our cornerbacks like Caleb (Siefring) had to key on him and if it came out to the option, he would have to get him right away, and everybody else would have to take care of the fullbacks and quarterbacks."
"Their defense is very good," said Kirtland's coach Tiger LaVerde. "There's no doubt about it. ... We couldn't get into a rhythm.
The Hornets' defense played well too in containing Coldwater's All-Ohio quarterback Austin Bruns.
"I thought our defense did an outstanding job in giving us some chances," said LaVerde. "Coldwater's a good football team. They're great kids and I have great kids too."
"It was frustrating," said Otten. "They were stout and we knew they were stout. ... There was some frustration there."
Coldwater struck first after the Cavaliers' defense stuffed the first two Kirtland offensive series. Bruns passed on his first play and then ran two times on the drive, leading to a first-and-goal from the Hornets' 10-yard line. Two plays later, Bruns hit Mitch Schoenherr for a seven-yard touchdown pass.
Coldwater was forced to punt on its next possession, but Kyle Bergman could not hold on to the snap and tried to scramble before tossing a short pass that Kirtland shut down to give the Hornets the ball on the Cavaliers' 19-yard line.
"It's one of those things where barking at him doesn't help anything," said Otten of the broken punt play. "You say 'Let it go. Forget about it. It's a long game.'"
Kirtland's sophomore Adam Hess and senior quarterback Scott Eilerman worked the ball for the Hornets into the red zone, where Eilerman hit Matthew Finkler for a four-yard passing touchdown. The Hornets lined up for a two-point conversion, but after a quick timeout, Kyle Adams stepped in and booted the score-tying PAT.
"We planned to go for two. In practice (Friday) we said we would go for two," said LaVerde. "They lined up in the wrong formation and we called timeout. Looking back now, it stinks that we didn't. You can't foresee the future."
On the ensuing possession, Bruns moved the Cavaliers quickly to get the momentum back, helped by several Kirtland penalties, including a five-yard face mask after a Bruns-to-Josh Huber 25-yard pass that got the Cavaliers to the Kirtland 10-yard line. Once inside the 10, the Cavaliers tried some shenanigans, running a double-reverse with Brody Hoying passing the ball to a wide-open Kyle Post in the end zone. However, the officials flagged the Cavaliers for an ineligible man downfield and Bergman then booted a 28-yard field goal just before halftime to put the Cavs on top 10-7.
After a scoreless third quarter, the Cavaliers looked to chew up the yards and clock during the fourth quarter. Kirtland was forced to punt on its first possession of the fourth quarter and Eilerman booted a 53-yarder to the Cavaliers' one-yard line. Bruns barely got out of the end zone on an opening run up the middle, but on the next play, Bruns tried the bubble screen pass to Hoying in the end zone. However, Kirtland's Sam Skiljan immediately hit Hoying three yards inside the end zone for a safety, cutting the Cavaliers' lead to 10-9.
"Standing on the sideline on that play, it was like a punch in the gut," said Coldwater's senior linebacker Zach Dickman of the safety. "Each one of us defenders on sidelines just looked at each other and knew we had to step up here."
Bergman's free kick put Kirtland at its own 48-yard line and Hess needed just one run to get to the Cavaliers' 41, but the defense held tough and forced Kirtland to punt.
This time, Eilerman's punt bounced into the sanctuary of the end zone, allowing the Cavaliers to start on their 20-yard line. The Cavaliers worked worked methodically on offense and Kirtland started to burn timeouts in an effort to prolong the game. Bruns then hit Post for a 43-yard strike that put the Cavaliers into Hornets' territory, but three short runs and a false start penalty had the Cavs looking at fourth-and-11 from the Kirtland 35-yard line. Bergman stepped in to punt and came up with the best punt possible, a high punt that held up long enough for Drew Otten to get under it and down it at the Kirtland 6-yard line.
"He owed us one for the dropped punt," said coach Otten with a laugh.
"It was his time to shine," said Bruns. "He stepped up and made a great play. That's what state championship games are for, to step up and play a great game."
With 2:34 on the clock and no timeouts, Kirtland was forced to go airborne. Eilerman hit Washington and Sam Kukura to get up to the 35-yard line, but on third-and-10, Elierman looked over the middle with Hoying diving for an interception to give Coldwater the ball with 65 seconds left to pay. Two victory formations later and the Cavaliers were state champs.
"That was the story of the game. We couldn't put together a drive in the second half," said LaVerde. "We had plenty of chances to get a drive and win the game. Just came up short tonight."
"First of all, I've got to give Kirtland a lot of credit," said Bruns. "I know being on that end the last three years, it kind of burns. They're a great football team and played a great game.