Tuesday, December 4th, 2012
Community celebrates Feast of St. Nicholas
By Amy Kronenberger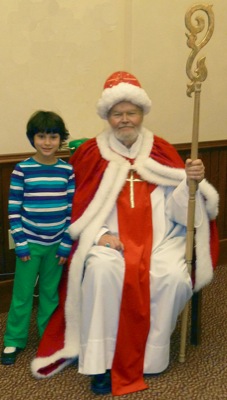 Whether tucking an orange into a shoe or hooking a candy cane into a stocking, the tradition of St. Nick varies for many families in the Grand Lake area.
Anne McGuire, director of programs at the Maria Stein Shrine of the Holy Relics, said the tradition of celebrating the Feast of St. Nicholas on Dec. 6 has diminished, but those who continue to celebrate it are mostly Catholics or members of Eastern Orthodox, Lutheran, Anglican and Episcopalian churches.
"It's become kind of a family thing," she said. "You either have always celebrated it, or you've never heard of it ... In the Eastern Orthodox churches in Europe, St. Nick is big - super big."
The fourth century Greek bishop St. Nicholas lived in the city of Myra, located in modern-day Turkey. During his life, St. Nicholas became known for his acts of secret gift-giving. After his death, his legend inspired the creation of Santa Claus.
For Patty and Paul Langenkamp of Coldwater, the tradition was passed down from Paul's family.
"I don't remember ever celebrating it as a child," Patty Langenkamp said. "I grew up in Dayton, maybe that's why. But my husband grew up in St. Henry, and he always celebrated it."
In the most well-known story of St. Nicholas, the bishop learned of three daughters who were too poor to marry and would therefore be sold into prostitution. To prevent this, St. Nick tossed bags of gold coins through the window during the night for each of the daughters.
In some legends, the coins landed in the daughters' shoes. In another legend, St. Nick tossed the bags down the chimney and they landed in stockings hung by the fire to dry.
So the tradition began to place shoes outside the door or hang stockings over the fireplace on the eve of Dec. 6 to receive a treat from St. Nick. Treats at that time included fruit, chocolate coins wrapped in gold foil or a small gift. If the child was naughty, he or she would receive a lump of coal.
The Langenkamps hang a stocking for each of their 11 children along their banister. The children place their Christmas lists inside for St. Nick, who then leaves fruit, chocolate and a Catholic prayer card.
The family reads that year's prayer together every day for 30 days.
"We believe keeping Christ in Christmas is very important, so we've introduced many prayers," Langenkamp said. "The kids enjoy it a lot, and it keeps our Catholic faith important to the holiday."
Celina High School English teacher Alicia Sneddon said she has always celebrated St. Nick's Day and was shocked to learn most of her students don't know the tradition.
"When I was in school, every Dec. 6 my friends and I would show each other what we had gotten in our stockings," she said. "My family would wake up in the morning with every candy dish filled."
Now that Sneddon and her siblings are grown, they enjoy a family meal together on Dec. 6, and sure enough, their stockings are all filled. Sneddon also celebrates with her fiance and plans to continue the tradition when they have children.
At the Maria Stein Shrine, McGuire hopes to keep the tradition of St. Nicholas alive and teach children the difference between the saint and Santa Claus.
Every year the shrine invites children to an event to learn the story of St. Nicholas. This year deacon Bill Krumm of Carlisle will dress as the saint for the children's event at 7 p.m. Dec. 13 and 9 a.m. Dec. 15.
The children will be asked to leave their shoes outside the chapel door before going in to meet and hear stories from St. Nick. While the children are in the chapel, St. Nick's helpers will leave gifts in their shoes.
"The separation (between Santa and St. Nick) is fuzzy, and I think it's important that they understand the person of Santa Claus is rooted in a real person who got his reputation by being very generous," McGuire said.
Nancy and Gordon VanderVelde, St. Henry, took their daughter Diana to meet St. Nick at the shrine last year. Nancy VanderVelde, originally from Fort Wayne, celebrated the holiday as a child; her husband, originally from Michigan, did not.
Nancy VanderVelde has continued her family tradition of leaving shoes outside their bedroom doors. She also has taught her daughter the two separate people of St. Nick and Santa and has incorporated the traditions of her native country.
"Our daughter is adopted from Russia, and St. Nick is called Father Frost there and he dresses in blue," she said. "All the different traditions and different names for him in different countries is amazing."
Along with being the patron saint of children, St. Nicholas is the patron saint of sailors, merchants, archers and even thieves and pawn brokers.
"I think it's fun, but we don't usually include that tradition when talking to kids," McGuire said. "There really are some wonderful traditions that stem from St. Nick's generosity ... I think the more long standing a tradition, the more interesting it becomes and the more important it is to keep that tradition alive."