Saturday, December 8th, 2012
Redskins roll over Roughriders
St. Henry blows it open in third quarter
By Gary R. Rasberry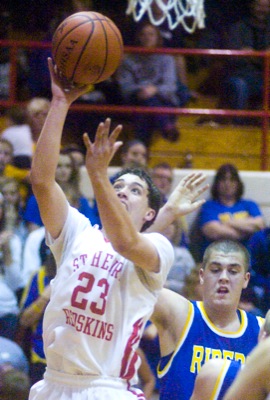 ST. HENRY - Sparked by a strong third quarter, St. Henry pulled away from St. Marys to improve to 3-0 on the season after a 71-48 win at Redskin Middle School Gymnasium on Friday night.
The Redskins started out strong, jumping out to a 7-0 lead as the Roughriders (0-2) went scoreless for the first two minutes of the game. St. Marys was able work its way back into contention through the first two quarters, getting as close as five points at one point before falling behind 30-22 at the half.
Garet Fledderjohann hit two of three free throws to start the third quarter to pul the Roughriders to within 30-24, but the Redskins asserted its authority from that point on. Jordan Bender hit back-to-back buckets to increase the Redskins' lead to 10 points and Kyle Stahl scored in the post to put St. Henry on top 36-24.
"We thought it would be a little bit of an adjustment going against that triangle-and-2 (defense). We thought we might see it after (St. Marys) used it against Fort Recovery," said Redskins' coach Eric Rosenbeck. "Guys like Jordan Bender stepped up and had some great games. In the second half, we were able to break it down a little more and get some easy shots and knocking down a few outside as well."
The Roughriders managed to get their deficit back to single digits once in the third quarter before the Redskins continued to pull away. Stahl personally outscored St. Marys 14-12 in the third quarter as St. Henry led 52-34 going to the fourth quarter.
"We started the game down 7-0. Then we got it to six or eight at half. Then we gave them six straight to start the second half," said Roughriders' coach Dan Hegemier. "Then we started gambling and they attacked the basket. St. Henry passes the ball very well. They allow their team to get nice easy looks."
St. Henry dominated inside the three-point line, hitting 28-of-37 from inside the arc (75.7 percent).
"We didn't think Stahl touched (the ball) enough," said Rosenbeck. "He didn't have to shoot, but we thought he would have to touch it because the eyes would go to him, (being) the player that he is."
Stahl finished with 20 points on 8-of-14 shooting from the field. Ryan Mikesell and Bender each added 16 with Alex Post scoring 13.
"In the second half, we were able to get Ryan the ball in positions where he can score," said Rosenbeck. "At the top of our 1-3-1 (defense) he creates havoc with his length, which got him a couple run-outs (steals for layups).
"All that being said, we're far from a finished product. We feel some of the guys who have been around are doing their jobs. We have to get our inexperienced guys to start stepping up to have more of a complete team," continued Rosenbeck.
Fledderjohann had a big night for St. Marys, scoring a game-high 24 points.
"We'll get better," said Hegemier. "We'll work on the mental aspect of the game. I thought we competed, played hard. Garet played a nice game for us."
St. Henry stays home tonight, hosting Mississinawa Valley for a 6 p.m. contest. St. Marys is off until next Friday, opening Western Buckeye League play in Hardin County against Kenton.