Monday, December 10th, 2012
Teaching youngsters to give
Bell ringer collects plenty of jingle to help needy
By William Kincaid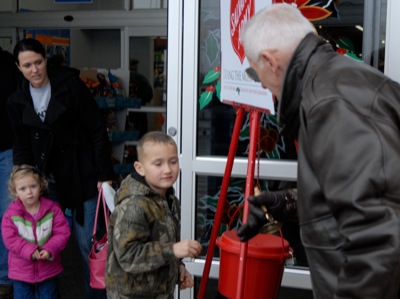 CELINA - The Salvation Army of West Bend, Wis., may have a miniature, bell-ringing horse named Tinker that ostensibly brings in 10 times the amount of money than its human counterparts.
But John Young of Celina doesn't need gimmicks: The generosity of Mercer County folks, as evidenced on Saturday afternoon outside the exit of the Walmart Supercenter, responds well to the simple, insistent jingling of his bell.
"I think people in this area - Mercer County, Celina - they've got hearts of gold," Young said. "They have to, because they just don't turn away and walk by ... They give."
Men and women of all ages and especially children approached the gentle-mannered Young, wearing aviator glasses, an Ohio State sweater underneath a brown leather coat and an elegant white scarf, who warmly offered a greeting of Merry Christmas whether the shoppers had money to donate or not.
"I avoid looking down so much at what they give because some people give less, some people give more," Young said. "They tell me there's a lot of bills in there."
What really moves Young is the sight of parents giving their kids coins or bills to plunk into the red kettle.
"This is good parenting," he said. "They're teaching them early to give. And the little kids, they look up, they smile. I wish them Merry Christmas ... it's a good thing, it's good parenting."
In an hour's time, more than half of the exiting shoppers - and some entering on the other side - donated something to the Salvation Army.
One man initially continued walking past Young and the Salvation Army sign before abruptly pausing, reaching into his jean pocket and depositing some money into the kettle. He told Young he was once an alcoholic and the Salvation Army of Cincinnati helped him get back on his feet.
"It's just a great benevolent association," Young said about the Salvation Army. "It helps the needy, the less fortunate."
Young recalled a woman a few nights ago who didn't have any money but told him she would come back to donate.
"Sure enough in about a half hour, she came back," he said. "That's right from the heart."
Virginia Miller, treasurer of the Salvation Army in Mercer and Auglaize counties, said since adding the bell-ringers and red kettles at local businesses four years ago, the holiday donations have significantly increased.
A Salvation Army committee decides where the money goes - prescription medications, gasoline for doctor appointments out of the area,
etc. All of the money stays in the county where it was donated.
Miller said she's always looking for more volunteers to arm the bells and kettles.
"Once they do it, they seem to like it and come back," she said, adding that about 25 volunteers this year are collecting donations at Kroger and Kmart in St. Marys and Chief Supermarket and Walmart in Celina.
"This is the first year for me," Young, who when asked his age replied he's past the age of consent, said. "I feel it's a privilege and honor to get to do this. It makes you feel good.
"I think it's time I gave a little back to society," he continued. "You reach a point and say, 'Hey, I want to give something.' This is a very small part I can do."
Young said he's lived in Celina all his life except when he served in the Navy for seven years. He worked at the former Huffy bicycle plant and along with his wife Wilma raised three daughters, who now live in Seattle, Wash., Aspen, Colo., and Cincinnati.
His wife offered to bring him coffee, but he refrained.
"Because I don't want to have to go the restroom," he said.
A shopper on Saturday asked Young how he stays warm.
"You remember that song "I've Got My Love to Keep Me Warm?" Young said with a smile.