Monday, December 17th, 2012
Cavs open season with a victory
By Gary R. Rasberry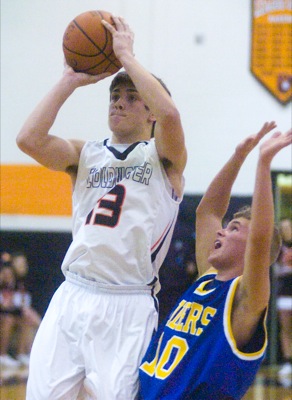 COLDWATER - It was a long wait for Coldwater's boys basketball team to get the season started, but the result of the opening game of the year was worth the wait for Cavaliers' fans.
The Cavaliers shrugged off a cold start and defeated St. Marys 59-52 on Saturday night at The Palace.
"They did what they had to do to win this game. I'm proud of them," said Coldwater's coach Mike Bruns. "Their competitiveness and energy came out at the end. They wanted to win. They're used to winning."
It took over two minutes for Coldwater to get on the scoreboard as the Roughriders (0-4) jumped out to a 4-0 lead after the Cavaliers missed their first shot and then turned it over on their next two possessions. Austin Bruns canned a three-pointer to get the Cavaliers on the board and the two teams battled close before Coldwater took the lead for good on Mitch Schoenherr's stickback bucket with 30 seconds left in the opening quarter for a 12-11 advantage.
"Coldwater's athletic and has good athletes," said St. Marys' coach Dan Hegemier. "We had a rough start shooting the ball. Garet (Fledderjohann) had a rough start. (Austin) James came out and finally dropped a couple."
St. Marys stayed close and trailed 19-17 midway through the second quarter, but a Cavaliers' 7-0 run sparked by three-point buckets from Bruns and Brody Hoying extended Coldwater's lead to 26-17.
The Roughriders clawed to within 29-28 after an Austin James' three-pointer midway through the third quarter, but Adam Klosterman sparked the Cavaliers with a hoop-and-harm three-point play before Schoenherr and Mitch Heyne scored to give Coldwater a double-digit lead.
"Give a lot of credit to St. Marys. Defensively, they stepped it up," said coach Bruns. "They went in zone for a bit, and we hit a couple shots to get them out of the zone. Then they went man. They came after us and they tested our ball-handlers at that point but our guys held their composure."
St. Marys had one last furious comeback attempt in the fourth quarter as Garet Fledderjohann got hot and Coldwater missed some free throws that left the Roughriders trailing 54-50 with just a minute remaining in the game.
Coldwater appeared to have lost possession when a missed shot caromed off the support wire of the basket, but the officials ruled that a St. Marys player had deflected the ball, giving the Cavaliers the ball. Coldwater hit just enough free throws down the stretch to ice the game.
"I felt at times, when things didn't go our way in the second half that we didn't lose our composure," said coach Bruns. "We kept the effort up and that's what I was most proud of."
"Kids battled back. I'm proud they battled back," said Hegemier. "Tough call down four (the out of bounds call). It's what happens. ... We'll get better from this."
Austin Bruns paced the Cavaliers with 16 points while Derek Thobe added 13 and Schoenherr scored 12. Fledderjohann led all players with 20 points for the Roughriders while James added 13.
Coldwater is back in action tonight, hosting Van Wert while St. Marys hosts New Bremen on Friday.