Thursday, December 20th, 2012
Local teens to appear on TV holiday celebration
By Amy Kronenberger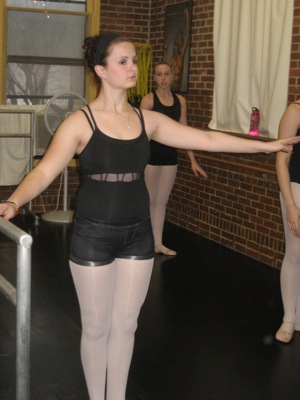 Two local teens recently danced with Mickey and Minnie Mouse for a holiday celebration that will be aired on television on Christmas.
Eighth-grader Aubrey Rammel, St. Henry, and freshman Tatum Temple, New Bremen, performed in the Walt Disney World Christmas Parade taped Dec. 1. The show will be aired at 10 a.m. Dec. 25 on ABC Family.
The girls were only two of three Ohioans selected to perform from auditions held in October. They then had six weeks to master the choreography, which was sent by email.
"It took us one practice to learn the dance and every other practice to perfect it," Temple said. "It was a lot of fun."
The girls traveled to Disney World the last week of November for final practices and filming. On Nov. 29 they danced in a parade through the Magic Kingdom and then filmed the television version on Dec. 1.
The girls described the filming process as "weird."
"We didn't keep moving like a real parade. They would film us in one spot. Then they'd move us and have us dance in another spot," Rammel said.
Temple said they did five or six different tapings.
The girls, along with other dancers from across the country, danced with the Broadway cast of "Newsies."
"It was awesome dancing with the Newsies," Temple said.
The girls also said they really enjoyed meeting different dancers from other studios and seeing Cinderella's castle lit up.
"There's a lot of good memories; I don't think I could choose a favorite," Temple said.
Both girls love to dance and eventually would like to own their own studios and teach. Temple's favorite style of dance is jazz; Rammel's is ballet.
Temple said before opening her own studio she would like to dance for a professional ballet company.
"This is my dream," she said. "I do want to teach, but in order to do this, I need a lot of performance experience."
Temple and Rammel were invited to audition through Lindsey Tague's Dance New York Style, Fort Wayne, after attending a Kent Boyd Seminar. Boyd, a Wapakoneta native, was a runner-up on the television show "So You Think You Can Dance."
The girls dance at Upstage Downtown Dance Theatre in Celina. Temple also dances at Maeva's School of Dance, Wapakoneta.