Friday, December 28th, 2012
Practicing Catholics declining
By William Kincaid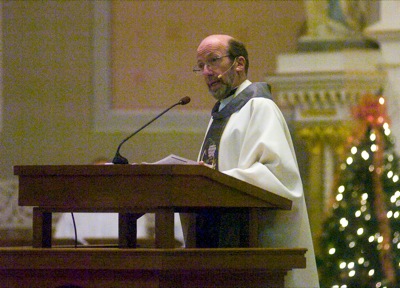 Over the past several decades and among the most recent generations, the number of practicing Catholics has significantly decreased, according to the Rev. Thomas Dorn of the Fort Recovery Cluster Parishes.
"A practicing Catholic is a person who goes to church every Sunday and holy day, goes to Confession at least once per year and believes and practices the teachings of the faith," Dorn said.
The Catholic Church has a rich history and robust presence in Mercer County - the southern part is often referred to as the "Land of the Cross Tipped Churches." But the Rev. Ken Schnipke of Immaculate Conception Church, Celina, and the Rev. Richard Walling of the Holy Trinity Catholic Cluster based in Coldwater, acknowledge that some members have drifted from the church.
"There's definitely been some leakage," Walling said, adding that the move away from religion is more pronounced in Europe. Pope Benedict XVI, through the Year of Faith, is asking Catholics to reconsider the faith they profess and reflect on what that means.
Walling said a new campaign by the Archdiocese of Cincinnati is a two-pronged strategy.
More than 1,700 TV commercials in Cincinnati, Dayton and Lima will air between Dec. 14 and Jan. 20. The media blitz is expected to reach millions of viewers in the 19-county archdiocese.
Also, copies of "Rediscover Catholicism" were distributed to church-goers during Christmas Masses. Local priests hope the book will rekindle the passion of faith in regularly attending congregants and those who just go to Mass on Christmas and Easter.
"As we celebrate the Nativity of Our Savior in this Year of Faith, it is especially important that each of us take up our Holy Father's challenge to rediscover the content of our faith, so that we can witness to it more effectively in our daily lives," the Rev. Dennis Schnurr, Archbishop of Cincinnati, writes in the opening of the book.
Walling, Schnipke and Dorn agree the TV commercials are powerful.
Dorn spoke about impressing upon non-practicing Catholics the importance of practicing the faith.
"How do we reach them if they are not going to church regularly, perhaps only on Christmas and Easter, or perhaps only on special occasions such as funerals and weddings and First Communions and Confirmations, or perhaps never?" Dorn asked. "The television commercials will be effective with some individuals, touching some hearts. For example, the commercial regarding Confession is especially powerful."
Schnipke said three of the commercials were shown to congregants at Masses to help people appreciate the significance of the Catholic Church.
"They are powerful commercials deeply rooted in human experience," he said. "You can find more of the commercials at www.catholicscomehome.org. It was very insightful listening to people's comments after Mass - many were deeply touched."
In one commercial, people watch the moments of their lives - times when they've screamed at and mistreated loved ones - on a movie screen in a giant hangar.
"When our transition into eternity begins, there won't be a chance for any do-overs, no time to rewind our life, no chance to choose a different ending," a narrator says.
Thankfully, the narrator continues, you still can ask God to help edit your life story and create the ideal ending.
Another commercial shows the immense scope of the church, touching on the races, ages and economics of its more than billion members as well as its impacts on society over 2,000 years - the establishment of hospitals, orphanages, schools, the college system and the scientific method and laws of evidence.
At least eight different ads will run. They will feature testimonials from Catholics who returned to the faith and others that focus on the church's history and accomplishments.
The so-called "evangomercials," are produced by Catholics Come Home, an Atlanta-based nonprofit dedicated to evangelizing for the faith. The group has produced similar campaigns for 33 dioceses and says they boost Mass attendance by an average of 10 percent.
In addition to the books distributed at Christmas Masses, church officials are holding other activities for those interested in returning to the flock.
Small group sessions about rediscovering Catholicism, including presentations on the seven pillars of Catholic spirituality, will be held at IC through February.
"Some returning Catholics may have additional questions about marriage and divorce," Schnipke said. "The St. Mary's Deanery is also offering a marriage and annulment presentation that will be held at St. Charles Center."
Other churches are following suit.
The Rev. Barry Stechschulte of Holy Rosary Church in St. Marys will lead sessions about Catholics Come Home and the "Rediscover Catholicism" book on Tuesday evenings during Lent. Anyone may attend.
Dorn said it's easy to return to the church.
"Begin with a good, humble, thorough Confession, reconciling yourself with Christ and His Church," he said. "Every parish has Confessions times posted on the front of the bulletins in the back of church, or you can call a priest for an appointment."
Dorn, Schnipke and Walling had various thoughts on why Catholics stop practicing.
Secularization, the ability of people to live without direct reference to God, spiritual seeking in places other than the church, and wounds inflicted by family members or church leaders, whether intended or not, were issues Walling considered.
Schnipke echoed Walling's thoughts and added that the world provides a false sense of security with its abundance of tangible resources.
But when struggles and difficulties unfold - challenges the world doesn't offer answers to - faith makes sense, he said.
Dorn said the reasons why some Catholics stop practicing are many and varied.
"Every person has a story," he said. "Sometimes they stop practicing the faith due to neglect or sloth, or because they never really appreciated or understood the faith and its importance, or because they reject a Church teaching, or because of an irregular marital situation, or because they have been scandalized or hurt by clergy, or because they are involved in a grossly immoral lifestyle."
It's important to remember that though the Archdiocese is seeking to welcome back non-practicing Catholics, the church can never compromise its teaching.
"Which, as the teaching of Christ, is eternal and unchanging," Dorn said. "Catholic Christianity is a religion, not a social club. As such, a Catholic must be 'all in' in regard to teaching of the faith, lest that person be a hypocrite."