Wednesday, December 5th, 2012
Lima Senior no match for Celina
Bulldogs bury Spartans early
By Ryan Hines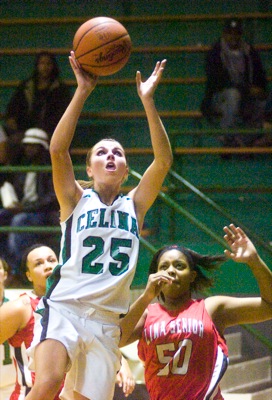 CELINA - An efficient offense and a stout defensive effort helped Celina lead for all but 10 seconds on Tuesday night en route to a 78-50 win over Lima Senior at the Fieldhouse.
Celina (4-1) shot a blistering 31-of-59 from the field (53 percent) and connected on 9-of-15 from three-point range (60 percent) while setting a season-high for points.
"When we were patient on offense, we got the types of looks that we wanted," said Celina's head coach Brian Stetler. "We made the extra pass. We weren't taking contested shots and we made the extra pass for the open looks."
Lima Senior was averaging 74 points per game after wins over Toledo St. Ursula and Columbus Grove but struggled against Celina's defense. The Spartans made 21-of-65 from the field for just 32 percent.
"Our defense can be pretty decent," said Stetler. "Lima Senior is quick and I thought we did a good job of moving our feet, contesting their shots and limiting them to one shot."
The Spartans held a 3-2 lead early after a three-point basket by Essence Cowan, but Celina then went on a 15-0 run over the next 3:57 of the first quarter to grab a commanding 17-3 lead. Katie Stahl and Hillary Heiby each had five points to lead the early Bulldogs' surge.
"I think that we did a good job of handling their pressure and getting some good looks at the basket early on," said Stetler. "Our defense was also stellar at the beginning and got us off to a good start."
Celina led 25-12 after the first quarter and then started the second quarter with a 9-0 run for a 34-12 advantage.
"We came out of the gates slow tonight and when you are a pressing team and you don't score, you can't get into your press," said Lima Senior's head coach Vince Holliday.
Lima Senior pulled to within 47-35 after a 10-2 run midway through the third quarter, but Celina responded with a 12-2 spurt to close the quarter and the Bulldogs' lead was 59-37 with eight minutes left to play. Kylee Bader hit a pair of three-pointers and Hillary Heiby connected from long range too while Stahl added three points to highlight the spurt over the final 2:30 of the third quarter.
"We made a nice run in the third quarter to get within 12 points to force a timeout, and we also stopped them on their initial shot the first two or three possessions after the timeout. The problem for us was they got an offensive rebound or the ball bounced back out to their guards and it turned into a three-ball," said Holliday. "That happened three times after we got to within 12 points and after the three three's, the lead was back up to 21 points."
Lima Senior never came closer than 21 points the rest of the game.
"Celina just executed so well offensively and they are just a better team than we are," said Holliday. "Their basketball IQ is better than ours and they took advantage of every opportunity they had. I knew they were good, but I didn't know they were that good. We had no answers for them tonight."
It was a balanced offensive effort for the Bulldogs as four players hit for double figures and eight players scored at least three points. Bader, who hit five three-pointers, and Hillary Heiby led Celina with 18 points apiece. Emily Bihn scored 12 points and Stahl contributed 10 points and a game-high 14 rebounds.
"We are a balanced team and that's one of our strengths. They all look to score and they are all capable of leading the team in scoring on any given night," said Stetler.
Thompson was the lone Spartans player in double figures with 13 points, but the freshman was just 6-of-17 from the field.
The Bulldogs dominated the glass holding a 50-27 advantage in rebounds.
"We felt we had to control the boards tonight because they have good athletes and we wanted to prevent them from getting out quickly on the fastbreak," said Stetler.
Celina opens the Western Buckeye League portion of its schedule on Thursday when Bath visits the Bulldogs at the Fieldhouse in a matchup of title contenders.