Friday, January 4th, 2013
Longtime physician James Otis dies
By Margie Wuebker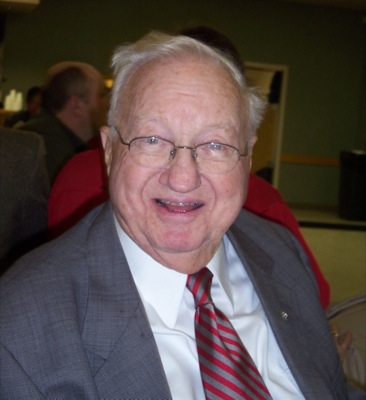 CELINA - Dr. James J. Otis, who at one time was the oldest practicing family physician in Ohio, died Thursday afternoon at Joint Township District Memorial Hospital in St. Marys.
Otis, known affectionately throughout the area as Dr. Jim, marked his 99th birthday in October. His health had declined in recent weeks following a fall, which also ended his daily routine of driving to North Grove Cemetery to spend time at his wife's gravesite and walking his dog Molly through Harbor Point.
At the age of 93, he reluctantly closed his Celina medical office climaxing a career that had spanned more that 66 years. He disliked the term "retired."
"Jim always said 'Once a doctor, always a doctor,' " younger sister Nancy Otis, also of Celina, recalled. "Patients from all over continued to call him and seek his opinion."
Otis delivered more than 2,000 babies during his years of practice, including the first set of triplets in Mercer County to survive without the benefit of incubators. He also delivered the last baby at Gibbons Hospital two days before the facility closed in June 1980.
A March 2003 traffic accident nearly took its toll, but attending physicians quickly learned what Otis' patients knew all along - you can't keep Dr. Jim down for long. He demanded a chart and wrote detailed instructions for an area woman's admission before allowing emergency room personnel to treat his broken ribs and punctured lung. Doctor and patient ended up side by side in the intensive care unit.
"Jim never wanted to do anything but be a doctor and help people," his sister said. "He was like a cheerleader to his patients. His confidence was infectious; patients knew everything would be fine because he said so."
Following graduation from the University of Cincinnati College of Medicine in 1939, he completed a short internship and residency at hospitals in Toledo and Cincinnati. He joined his father's (Dr. L.M. Otis) medical practice in Celina on Oct. 1, 1940.
People often asked Otis about his age, Nancy Otis recalled. He would respond, "How old do you think I am?" He especially liked guesses that pegged him as younger, she said.
Relatives, patients and neighbors can attest to his gardening prowess. He diligently hoed, weeded and watered a plot near his lakeside home and often gave away the vegetables of his labor.
"Jim loved to grow tomatoes," his sister said. "He always had at least two plants that he called Jim and Betty."
His wife, the former Betty Hamel, died in 2010.
In addition to being a diehard Ohio State Buckeye fan, retired Dr. Donald Fox of Celina recalls Otis' penchant for golf.
"Jim loved to play golf," he said with a laugh. "He would head to Shawnee Country Club in Lima every Thursday and tell nurses at the hospital to call me if his patients came in to deliver. It became a standing joke."
Fox lauded not only the doctor's medical skills but his genuine concern and compassion for patients
"Jim was quite a guy," he added. "His patients loved him."