Tuesday, January 8th, 2013
Martin in court on murder charge
Man charged in the shooting death of girlfriend Mindi Shinn of Rockford
By Margie Wuebker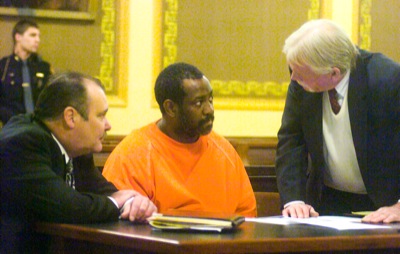 CELINA - Daniel C. Martin, who is charged in the Nov. 8 murder of live-in girlfriend Melinda "Mindi" Shinn, remains incarcerated without bond following an initial appearance Monday afternoon in Mercer County Common Pleas Court.
Mercer County Prosecutor Matt Fox requested no bond for the 40-year-old defendant given the seriousness of the crime and the significant threat of flight. Martin eluded authorities for nearly 60 days prior to his arrest Wednesday.
Martin said little during the proceeding other than to confirm he has no funds to hire an attorney.
Judge Jeffrey Ingraham, who leaned forward to hear the man's soft-spoken reply, asked him to talk louder for the court reporter's benefit.
David William Bruns and Jeffrey Knapke were appointed to represent Martin. His next appearance is an arraignment hearing 10:30 a.m. Jan. 25. His attorneys declined to proceed with arraignment and made no comments on bond at the Monday proceeding.
Martin, who showed no emotion in the courtroom, faces one count of murder, a first degree felony, contained in an indictment handed down by grand jurors Nov. 15. It carries a specification regarding the use of a firearm in the crime.
If convicted, he faces up to 10 years in prison and a $20,000 fine. The gun specification could add more years to the sentence.
Security was tight during the proceeding with visitors - both Martin's supporters as well as Shinn's family and friends - passing through a metal detector before going into the courtroom. No one was permitted to sit in the front row. Everyone remained in the courtroom until the defendant was escorted to a waiting cruiser to return to the Mercer County Detention Center.
Shinn was found shot to death the morning of Nov. 8 in the mobile home she and Martin shared at 509 W. North St., Rockford. Local police chief Paul May found the body of 26-year-old Shinn after responding to a telephone call from a concerned relative. The couple reportedly had been fighting the previous night.
Martin's SUV was found abandoned hours later in Fort Wayne, Ind., where he reportedly has relatives and friends. A combined effort by the Mercer County Sheriff's Office and U.S. Federal Marshals led to his arrest shortly before noon Jan. 2. Authorities stormed a home where he had been staying and found him taking a shower. An AK-47 assault rifle was found nearby.
Martin waived extradition during a Jan. 3 hearing in Fort Wayne and he was brought to the Mercer County Detention Center that afternoon.
The federal agency posted a $2,500 reward for information leading to Martin's arrest and conviction. Sheriff Jeff Grey said investigators received calls with information about Martin's possible whereabouts and his new cell phone number. However, he had no information about the status of the reward.

Correction:
The possible sentence Daniel Martin faces in conjunction with the shooting death of Melinda Shinn is 15 years to life. Grand jurors returned one count of murder, a first-degree felony, with a gun specification.
The error was made in reporting.