Saturday, January 12th, 2013
Defense carries Redskins over Tigers
St. Henry tied with St. John's for MAC lead after giving Versailles its first loss of season
By Gary R. Rasberry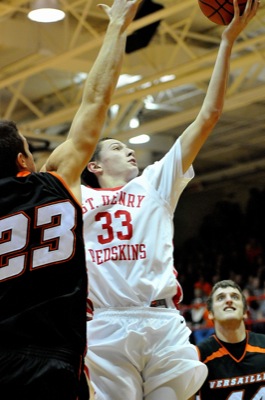 ST. HENRY - Eric Rosenbeck got the defensive performance he was hoping for from his St. Henry squad on Friday night against Versailles.
The Redskins took the undefeated Tigers out of their offense from the opening tip and poured it on offensively en route to a 68-53 win in Midwest Athletic Conference action at Redskin Gymnasium.
St. Henry, the state's top-ranked team in Division IV, improves to 11-1 overall and 3-0 in the MAC, sharing the conference lead with St. John's. Versailles, ranked fourth in Division III, drops to 8-1 (3-1 MAC).
"Two things; We're at our place and want to protect our court because it's so hard to win on the road in the MAC," said Rosenbeck. "Number two, it's 90th anniversary weekend (of the boys basketball program), and a lot of people haven't seen us play that were probably here tonight. We wanted to show them we're still putting out a good brand of basketball."
Earlier in the week, Rosenbeck noted his squad needed a strong defensive effort to shut down the potent Tigers, especially scorers Kyle Ahrens and Chad Winner.
Ahrens (averaging 19.5 points per game) did score 22 points, but was just 5-of-14 from the field (12-of-14 at the free-throw line). Winner (17.3 ppg), on the other hand, struggled, connected on just 2-of-12 from the field and finished with four points.
"It starts in practice, we've said it for years," said Rosenbeck. "Defensively, we thought we had a pretty good handle on what they were doing. All the credit goes to the kids. Kent Hemmelgarn with his hedging ability and Ryan Mikesell was just phenomenal. We didn't give the shooters the open shots they were used to getting. Our kids deserve a lot of credit for being disciplined."
"Give (St. Henry) a lot of credit, but we need to be patient," said Tigers' coach Scott McEldowney. "We've gotten away with it a lot this year, being able to attack from the get-go and not having to execute and use more screening. ... Good teams play great defense like that. I'm more concerned about our defense."
The Redskins also got off to a blistering start offensively, jumping in front 13-2 just 5 1/2 minutes into the game. The Redskins pounded the ball into Kyle Stahl in the post and also featured penetration by Mikesell, Jordan Bender and Alex Post for baskets.
"It was big," said Rosenbeck. "We saw some things they did defensively that we could take advantage of, if we got it right, like cross-screens and back screens we focused on all week. We got some easy ones. Once we got them, we were good to go."
"Instead of sticking to our defensive concept we like to play, we started chasing them," said McEldowney. "I don't know if there's been a game since we've played here where we've given up so many layups.
"We take pride at having a great interior defense. Whether it was Stahl catching it on the post or somebody back-cutting us, we just went out of what we like to do," added McEldowney.
After St. Henry built a double-digit lead early, the Tigers never got their deficit under double digits the rest of the game. The Redskins pushed their lead past the 20-point barrier in the fourth quarter before the starters got a well-deserved ovation from the Redskin faithful.
The Redskins' starters were in foul trouble during portions of the game but Tyler Schwieterman, Jesse Evers, Evan Prenger and Jason Jacobs gave strong defensive contributions off the bench to prevent any Tigers' comeback attempt.
"They did a good job holding down the fort," said Rosenbeck of the Redskins' bench. "Offensively, I feel like we can get more out of them. It's all about confidence. We'll keep working."
St. Henry shot 61 percent (27-of-44) from the floor and outrebounded Versailles by a 36-15 margin, including a 10-3 edge in offensive rebounds.
Mikesell paced the Redskins with 22 points and Stahl added 17 points and 12 rebounds while Alex Post scored 12 with Bender contributing 10.
Jacob Wenning came off the bench for Versailles to score 15 points while Damian Richard added 10 points.
St. Henry wraps up its anniversary weekend with a home game against Anna tonight. The JV start time has been moved to 5:30 p.m.