Monday, January 14th, 2013
Temple, Deubler, Borgerding earn individual victories
Wapakoneta-Celina Swimming Invitational
By Gary R. Rasberry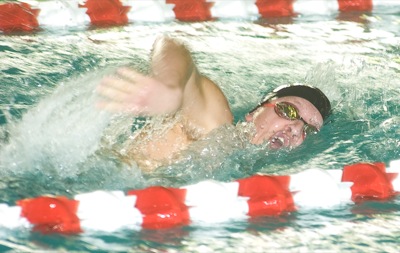 WAPAKONETA - Perennial Western Buckeye League power Shawnee swept the boys and girls swimming team titles at the Wapak-Celina Invitational held on Saturday at the Wapakoneta YMCA.
The Indians scored a combined 556 points, almost 200 more than any other team.
Celina placed third in the girls and fifth in the boys standings. Other local teams in the girls division included Minster (seventh), St. Marys (ninth), St. Henry (10th), Fort Recovery (11th), New Bremen (13th) and Marion Local (15th). On the boys side, St. Marys was sixth, Fort Recovery ninth, Minster 11th, Marion Local and New Bremen tied for 13th and Coldwater 16th.
A trio of local swimmers claimed individual victories.
Celina's Tyus Temple picked up a win in the 100-yard butterfly, finishing in 55.99 seconds, edging Ada's Jon Robey.
"It felt pretty good," said Temple, who also finished second in the 200 freestyle. "I was a little sore, so my time was a little slower. Overall, I was happy. (Robey) is good at the butterfly. I always like it when I swim against him because I know he'll always swim well. It pushes me to the best of my ability."
The other local boys win came from St. Marys' Jared Deubler. The Roughrider junior cruised to victory in the 500 freestyle, finishing in a time of 5:15.95, 13 seconds ahead of runner-up Luke Kleman (Ottawa-Glandorf).
"That's my record for the school," said Deubler, who also swam legs of the Roughriders third-place 200 medley relay unit and fourth-place 400 freestyle relay squad. "It was a good race. It felt good. Felt clean. I wanted to focus on my turns (the race is down and back for 10 laps in the 25-yard pool). It worked out well."
The local ladies were paced by Minster's Nikki Borgerding, who won the Individual Medley, which constitutes swimming 50 yards in each stroke (freestyle, butterfly, backstroke and breaststroke). Borgerding tapped the wall in 2:23.37, a mere .38 seconds better than runner-up Mary Stoll (Lima Central Catholic).
"It went good. Great to be swimming against competition," said Borgerding, who added a second-place finish in the 100 breaststroke. "After coming back from Christmas break and getting into the pool, it's a great start."
Fort Recovery's Marshall Hull finished second in the 100 backstroke and fourth in the 100 butterfly while the Indian' quartet of Lane Hull, Jon Sutter, Mackinley Timmerman and Andy Gray finished fourth in the 200 freestyle relay. For the Lady Indians, Cori Stone was third in the IM.
St. Henry's Mackenzie Fishbaugh had a solid day for the Redskins' swim club, finishing second in the 100 freestyle and third finish in the 100 butterfly.
For Celina's boys, Kasyn Fishbaugh was second in the 50 freestyle, trailing by only .23 seconds to Shawnee's Erik Risolvato, the state record holder in the event. Fishbaugh also took third in the breaststroke and swam legs of a pair of fifth-place relays (200 medley relay and 400 free relay) along with Lucas Goodwin, Temple and Ryan Miller.
Celina girls posted a pair of second-place finishes in relays. The 200 medley relay of Paige Dorsten, Kandace Eichenauer, Michaela Wenning and Brooke Mertz was only 2.42 seconds behind Shawnee and the 200 free relay, with Cami Dzendzel replacing Eichenauer, finished behind the Indians as well. Mertz was also fourth in the 50 free while Wenning was fourth in both the 100 butterfly and 100 backstroke. Meagan Muhlenkamp added a fourth-place finish in the 100 breaststroke while Muhlenkamp, Eichenauer, Alexis Zacharias and Madison Weininger took fourth in the 400 free relay.
The Roughriders girls were paced by Sierra Braun's fifth-place finish in the IM while Matt Hollman added a fourth-place showing in the 100 breaststroke.
Celina, St. Marys and the other WBL teams will now get ready for the league meet, which starts with diving on Jan. 24 and finishes with swimming on Jan. 26 in Defiance. Coldwater will host Midwest Athletic Conference teams in the unofficial MAC meet on Feb. 2.