Thursday, January 17th, 2013
Ohio closes oil well, questions remain
By Shelley Grieshop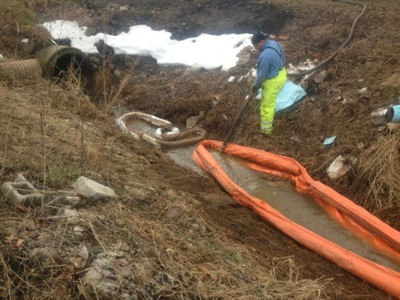 ST. MARYS - A leaking oil drilling operation east of the city was ordered shut down by state officials as crews continue clean-up efforts.
The leak was first discovered Friday night after a strong odor was detected in the area near state Route 29 and Plattner Pike. No illnesses were reported, and local drinking water sources have been deemed safe.
The investigation, however, is ongoing. Auglaize County EMA Director Troy Anderson said he still isn't certain how much oil was at the site prior to the leak, how much contaminated the environment and how long the problem existed before it was reported.
Anderson expressed frustration with the lack of basic information he and other local agencies have about the oil field.
"EMA has no paperwork on this, and we should have had," he said. "This is no different than a factory ... we should have a list of any hazardous conditions at the site, a drawing, how it operates and who to call in an emergency."
St. Marys Township Fire Department, which received the initial call about the leak, also has no information on file, he added.
Owners of oil and gas wells legally do not have to provide local authorities with any information even though they must respond to public health threats. Permits and other requirements are on file only with the Ohio Department of Natural Resources.
The 40-acre field is owned by Jay Elshoff, who lives nearby and leases the land to Innex Energy of Plano, Texas. The company has brought a consultant to the area to aid local officials in the investigation.
Also investigating are Ohio EPA, the Division of Wildlife and the National Response Commission. Clean-up costs and/or a fine could be levied against Innex; total costs have not been determined, state officials said.
Environmental crews initially thought the leak was contained until heavy rains Sunday washed an undetermined amount of oil into nearby Carter Creek and the St. Marys River, Anderson said. Booms and pads remained in place Wednesday afternoon to absorb the excess.
Anderson's investigation has revealed two "releases" or leak sources - a holding tank and a field tile. The tile still was releasing oil on Wednesday, he said.
The operation involves the removal of a crude oil/water mixture from the ground. During a separation process, the oil is transferred to a holding tank and the water is placed back into the ground about 3,000 feet below the surface.
The tanks can hold 240 barrels or more than 10,000 gallons of crude oil, which is eventually transported to a regional refinery, Anderson said.
A Willshire farmer - residing more than 25 miles away - believes oil he saw floating on the St. Marys River in November may be from the St. Marys site.
"I don't think it (the leak) happened just now," Clarence Hamrick told the newspaper on Wednesday.
He and others were working on land he owns near the river when he saw a 3 1/2-foot-wide stream of "oily, grimy stuff" floating in the water.
"It just kept coming," he said, adding he now regrets not reporting the incident to authorities.
Several days after Hamrick spotted the oil on the river, he noticed a man in an unmarked vehicle with Indiana license plates taking water samples near the St. Marys River bridge in Willshire, he said. The river flows west to Adams County in Indiana.
John August of the Adams County, Ind., EMA office told The Daily Standard this morning he and the county's 911 dispatcher have not received any complaints about oil or any other substance in the river.
Anderson said he could not rule out the possibility the oil spotted by Hamrick was from the St. Marys oil field. He planned to speak to Hamrick about the incident.
Elshoff, a fourth-generation property owner, said he began leasing the oil field to Innex in 2005 or 2006. Companies have been drilling on the land, off and on, for about 100 years, he said. He believes less than two barrels of crude oil leaked from the field.
"It's just a small amount," he said. "But they're going to make sure they clean up every drop."

Area drilling history:
The crude oil well found leaking last week in a privately-owned field near St. Marys is one of more than 150 oil wells constructed in the Grand Lake area by 1915. This site still pumps oil, but most have been abandoned. Underground equipment also remains buried at some sites, according to a 2012 Ohio Department of Natural Resources report.
Oil was first discovered locally in 1890; soon after, Grand Lake became the site of the world's first offshore oil derricks.
Today there are more than 5,722 registered oil well owners in Ohio. In the last year, the state has produced 4.8 million barrels of crude oil at an average price of $90.06 per barrel, ODNR reports.
- Shelley Grieshop