Saturday, January 19th, 2013
Future funding up in air
By Shelley Grieshop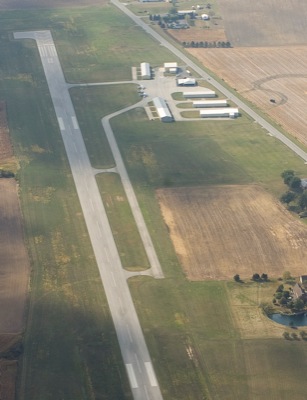 MONTEZUMA - A study on how important public airports are to communities could decide the fate of the local airstrip.
Information gathered in the next year by the Ohio Department of Transportation from Ohio's 97 publicly-owned airports will be used to make "hard decisions on proposed airport development in a period of limited funding," according to a statement from ODOT and the Federal Aviation Administration.
Lakefield Airport in Montezuma receives 90 percent of its funding from the state and federal government and 10 percent from Mercer County, according to Lakefield Authority Board member Gary Lefeld, who attended the Ohio Airports Focus Study meeting in Delaware on Tuesday.
"Funding choices have to be made," he said, although he didn't believe any major changes would occur for a few years based on the study's timeline.
The local airport gets approximately $100,000 each year from the state and federal governments. It also receives an annual appropriation from the county; $35,000 this year.
Lefeld said Tuesday's public meeting was a fact-finding event to give state and federal officials an understanding of the economic value of each airport. He admitted the end result makes him a bit nervous.
"It does give you a little itch," he said.
ODOT, in a press release, stated the focus study will be used to "optimize investment in Ohio's airport system with an eye toward safety, efficiency and economic growth." The findings and recommendations will be released in April and May 2014.
The study includes visits to each airport by an ODOT consultant. Interviews will be conducted; the number of jobs created, operational costs and other factors will be reviewed.
Lakefield Airport draws profits from fuel sales and hangar and farmland rent. Its largest expense is fuel purchases and the $21,000 salary paid annually to airport manager Charles Black of Rockford.
County commissioner John Bruns hopes the local airport is spared huge funding cuts. He believes it is an economic asset to the Grand Lake area.
"Years ago, (former Ohio) Governor Rhodes wanted an airport in every county," he recalled.
Bruns admitted rising fuel costs and other expenses make it difficult to keep small, rural airports operational. If Lakefield Airport is forced to close, the county may be required to reimburse the federal government for recent projects, he added.
The FAA funded 95 percent of a $1.8 million runway extension project five years ago and a $500,000 ramp area expansion in 2011. Officials also have plans for a $1.7 million taxiway expansion project next year.
Kent Hinton, another Lakefield Authority Board member, said rising expenses have caused many "mom and pop" airports to close. But he feels the local facility can weather the storm.
Hinton said the airport is a great tool for area businesses and can help attract new ones, although its value is difficult to estimate.
"People ask me how much money the airport is making for the county. That's a hard question to answer," he said.
Businesses that utilize the airport often protect that information for marketing purposes, Hinton explained.
The airport also is used for recreation or pleasure destinations. Race car drivers and their followers often use the airfield for events at Eldora Speedway in Rossburg.
The number and nature of flights logged at the local airport was not available Friday.
Local officials say airport traffic has picked up in recent years, in part due to an ongoing expansion plan that allows larger aircraft to take off and land. Chartered flights, flying lessons, crop dusting and other services are offered at the site along state Route 219.