Friday, January 25th, 2013
Flyers hand Tigers first MAC loss
Breakthrough win for Marion Local
By Randy Bruns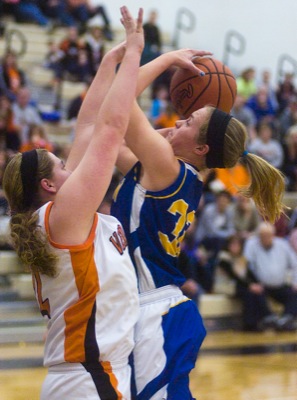 VERSAILLES - All year long the Marion Local Flyers have been close to winning big Midwest Athletic Conference contests but have never quite been able to break through.
On Thursday night the Flyers busted their big-game drought with a convincing 50-38 victory over the Versailles Tigers, who had been ranked number four in the state in the most recent Division III Associated Press poll.
Of the three league losses this year for the Flyers (10-6, 3-3 MAC), one was in overtime, another in two overtimes and the other was by just three points. On the other hand, the Tigers (15-2, 6-1 MAC) had been steamrolling through the conference schedule with double-digit wins over each of its previous MAC opponents.
The fortunes changed for both teams on this night, though, as the Flyers led from start to finish to jump-start their season.
"We played a lot smarter and we played hard for 32 minutes," stated Marion Local coach Treva Fortkamp. "Coming into the game we wanted to pressure their guards so they wouldn't get a good look at (Katie) Heckman and (Christa) Puthoff inside. They got their points in the first half (12 combined) but we kept up the pressure in the second half and didn't let them get the ball much. That was the key to the game for us."
Versailles coach Jacki Stonebraker also pointed to her team's inability to get the ball to its post players.
"We couldn't get it down there real well," stated Stonebraker. "Our seals weren't there and (Marion) was doubling down and then our guards weren't hitting real well from outside. Then in the second half our post players weren't finishing real well and they got down on themselves and our confidence level just plummeted."
While Versailles did get scoring from the 6-foot Heckman and the 6-1 Puthoff early on, Marion was able to match up favorably, thanks to its pair of Winners in the paint. Junior Brooke scored seven points in the first half and senior Chelsea tallied all eight of her first-half markers in the opening quarter.
As a result, the Flyers ran out to a 15-8 lead after one quarter and went into halftime with a 24-16 advantage.
The Tigers made a mini-run in the third quarter to pull to within three points at 28-25, but the Flyers finished the frame with a flurry. Allie Thobe hit a foul shot and followed with a three-pointer, Kristi Moorman scored on a stickback and Thobe capped a 9-0 run with another bomb from behind the three-point arc at the third-quarter buzzer.
"I thought we made a good run at them in the third quarter," said Stonebraker. "Then they hit some threes on us and we just couldn't keep digging out. We needed some outside shots to fall and some things to open up but we just couldn't find them."
Megan Kuether started the final period with another trey to give the Flyers a 15-point lead, and though the Tigers ramped up their pressure and caused some turnovers, it wasn't enough to cut their deficit.
"At the end I thought to myself 'That clock isn't going fast enough' because I've seen a lead go to a disaster in 13 seconds," commented Fortkamp. "But we composed ourselves and knocked down some free throws. We grew up tonight and finally the basketball gods came into the gym on our side."
Thobe posted a game-high 18 points while also pulling down seven rebounds for the Flyers, who also got double-digit scoring efforts from Brooke Winner (14 points) and Chelsea Winner (10). Heckman paced a balanced attack for the Tigers with 10 points.
Marion will host Elida on Saturday before resuming MAC play next Thursday by traveling to Delphos to take on St. John's.