Saturday, January 26th, 2013
St. Henry alone on top of MAC
By Gary R. Rasberry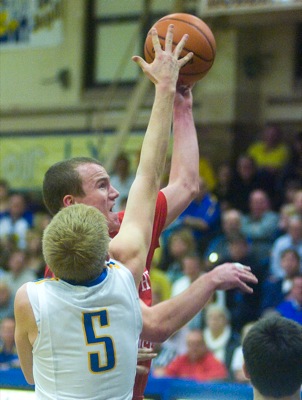 DELPHOS - St. Henry jumped in front early and rolled to a 71-57 win over Delphos St. John's on Friday night to give the Redskins sole possession of first place in the Midwest Athletic Conference standings after the road win at Arnzen Gymnasium.
The win puts St. Henry, the top-ranked team in Division IV, at 15-1 on the season. The Blue Jays see a three-game winning streak snapped to go to 9-4 and 4-1 in conference games.
The game started with St. Henry's Ryan Mikesell hitting a pair of three-pointers and the super sophomore personally outscored St. John's 11-9 in the first quarter to help give the Redskins a 20-9 lead after the opening eight minutes of play.
"Ryan stepped up and hit some big jump shots so they couldn't pack it in (defensively)," said St. Henry's head coach Eric Rosenbeck. "As a result, we were able to build a lead early."
"We've been fortunate to get out to some good starts lately, as we've been playing good basketball," said Blue Jays' coach Aaron Elwer. "Tonight, that wasn't the case. Not sure if we ever recovered from that. You get down 9-10-12 points to a good basketball team with the way they can do things offensively, it's a tough hill to climb."
With St. John's forced to extend its defense, the Redskins began to work their magic inside. Other than a 3-of-13 showing on three-point attempts, St. Henry was 23-of-33 from the field inside the three-point arc (69.7 percent).
"That opened the big guy inside," said Rosenbeck, referring to Kyle Stahl, who was 10-of-19 from the floor. "He is a load to stop, especially with the passing ability of some of our guys, especially Taz (Alex Post)."
"They are efficient offensively. They're the best passing team we've played up to this point," said Elwer. "They do a good job of knowing where their teammates are (and) put themselves in positions to be successful."
The Redskins worked hard on defense to keep the MAC's leading scorer Curtis Geise (21 ppg) from getting hot. Geise was held to just four points in the first half while Ryan Buescher (10.8 ppg) was scoreless in the first half.
"The guys bought into the game plan," said Rosenbeck. "We had a couple defenses we threw at them: a straight man, a switching man (switching on screens) as well as our 1-3-1," said Rosenbeck. "I think we confused them with our switching defenses."
St. Henry led 44-30 after three quarters of play when the Blue Jays got hot. Geise started the quarter with a three-pointer - which made him the 13th St. John's player to reach 1,000 career points - to help start a run. Buescher began to drive to the hoop, scoring 10 points in the final quarter as the Blue Jays continued to cut away at their deficit. Eric Clark's three-pointer with 3:51 left in the game pulled the Blue Jays to within seven points at 55-48, the closest margin since the first quarter.
After a timeout, the Redskins responded from an unusual venue: the free-throw line. St. Henry, shooting just 56.6 percent from the charity stripe coming into the game, hit 15-of-17 in the fourth quarter to hold off the Blue Jays. Post, just a 61.3 percent shooter at the charity stripe this season, was 6-of-7 in the final quarter as St. Henry's went back into double digits.
"They came at us in the second half and scored 30-40, something like that (39 in second half)," said Rosenbeck. "It was a great team win."
Rosenbeck credits a routine from a legendary coach in helping his team find success at the free-throw line.
"That credit goes to coach Fran Guilbault," said Rosenbeck. "He used to have his guys shoot 25 free throws at the end of every practice. "Whomever won (had the best percentage) at the end of the week got a Snickers and a pop or Gatorade. Since we've done it, we've been shooting better because, teenage boys, apparently, love treats and Gatorade."
Stahl scored a game-high 22 points with 13 rebounds and Post had 16 points to go with 13 assists. Mikesell scored 15 points and Kent Hemmelgarn contributed 11 points.
Geise shot just 5-of-17 from the field and finished with 17 points to lead the Blue Jays while Buescher had 14 points with Clark scoring 13.
St. Henry is back in action again next Friday hosting New Bremen at Redskin Gymnasium.