Wednesday, January 30th, 2013
Remembering 'Mo'
Classmates' support of their friend continues
By Margie Wuebker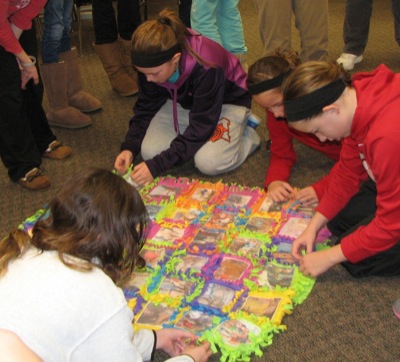 MINSTER - Two colorful blankets bear pictures of a friend who is gone but not forgotten. Memories of her also have been set to music - pop music no less - on a new CD.
Sixth-graders at Minster Elementary School wanted a way to comfort the family of 12-year-old Maureen "Mo" Meiring, who died Monday morning after a 19-month battle with brain cancer.
Principal Leanne Keller and guidance counselor Leah Ketner came up with the idea to make blankets as Meiring's condition deteriorated.
Following the schoolwide announcement of her death, the Class of 2019 gathered together to remember better times and to console each other. They also finished knotting the fringed blankets - a Cincinnati Reds design by the boys and a bright, multi-colored one by the girls - that will be part of memorials at the funeral home on Thursday.
Students on Monday also shared memories with State of the Heart Hospice music therapist Amy Pearson. She turned their words to lyrics in a song she named "Call Me Mo," patterned after the girl's favorite song, "Call Me Maybe," by Carly Rae Jepsen.
"Maureen was their friend first and foremost," superintendent Brenda Boeke said. "Illness never altered that perception."
The last 19 months have been a roller coaster ride for family and friends.
It all began in the summer of 2011 when Maureen fell from a bicycle during a family outing and struck her head. Doctors suspected a possible concussion but ordered an MRI to rule out other possibilities.
The test indicated an inoperable brain tumor growing in the area of the brainstem. Thus began a series of radiation and chemotherapy treatments designed to slow its growth.
The first series ended about the time she started fifth grade. The determined girl, who had earned a sunshine award the previous year, continued getting good grades, serving as a peer pal for fellow students in need of assistance and playing basketball and dodgeball. She also set out to learn the clarinet.
Periodic testing - at Children's Medical Center in Dayton and St. Jude Children's Research Hospital in Memphis, Tenn. - initially showed some shrinkage of the tumor, but the good news was short-lived.
Boeke saw many examples of students reaching out to help.
"They would pick up things she dropped and walk beside her when dizziness slowed her steps," Boeke said. "They provided steadying arms ... doing exactly what she would have done for them."
The school instituted a new Wildcat Spirit Award last fall to honor a student who serves as a model for others. Maureen was the unanimous choice.
Cancer had robbed her of speech but the smile she flashed during the November awards ceremony spoke volumes, Boeke recalled. Later she typed the word "AMAZING" on an iPad when her parents asked how she felt about the honor.
Friends, relatives and even complete strangers provided support during her journey. Cards and letters came from students in Minster, Fort Loramie, New Knoxville and St. Henry. Religious education students from neighboring Marion Local showered her with Christmas ornaments. People sent gifts and donated money to Team Maureen.
Then came a time when teachers at school and with the St. Augustine religious education program gathered for a workshop on how to deal with the inevitable. They received guidance from the family support staff at Children's Medical Center and from State of the Heart bereavement personnel.
Her fellow sixth-graders, who have worn armbands imprinted with the words "faith, hope and love" during the past few months, now will have another memento. A cluster of ribbons - in Wildcat orange and black and gray, the symbolic color in the fight against brain cancer - will be given to students to wear at class milestones leading up to graduation.
Students also have expressed an interest in supporting The Cure Starts Now Foundation, which advocates brain cancer awareness and research.
"It is too early to say what direction our participation will take," Boeke said. "Maureen left a wonderful example of faith and friendship that will not be forgotten."

How to help grieving children:
Dealing with death can be difficult for young people, according to Darlene Pearson, a bereavement specialist with State of the Heart Hospice of Coldwater.
She offers the following suggestions:
• Talk with children about the loss in clear and simple language. Answer briefly and don't launch into lengthy commentary. They will ask for more information if needed.
• Let them know feelings of fear, uncertainty, sadness and even anger are part of the grieving process. However, behavior should be appropriate.
• Encourage them to write down their feelings. They can share those feelings or tear up the paper if they want.
• Physical activity like exercise, walking and jogging can be a good release for pent-up feelings.
• Tell them it's OK to be happy and to go about their regular activities. One can remember a loved one without being sad all the time.
• Be ready to listen when they want to talk.