Friday, February 1st, 2013
Wildcats edge Indians during fourth quarter
By Gary R. Rasberry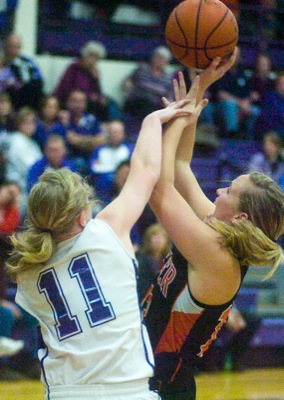 FORT RECOVERY - It's never dull when Minster's girls basketball team visits Fort Site Fieldhouse every other season for their Midwest Athletic Conference matchup against Fort Recovery.
It was a back-and-forth matchup for 32 minutes but Minster took the lead for good with 34 seconds left in the game and went on to defeat Fort Recovery 43-40 on Thursday night at Fort Site Fieldhouse.
The Wildcats' win knocks the Indians out of a tie for first place in the Midwest Athletic Conference as Versailles and New Knoxville are the lone teams remaining with just one loss in the standings.
Two years ago at Fort Site Fieldhouse, Minster won on a buzzer-beating layup by Delanie Wolf. It wasn't as dramatic this time around but just as exciting as neither team could extend a lead greater than five points all night.
"We knew it was going to be that way coming in," said Minster's coach Nann Stechschulte. "We knew there would be a lot of emotion. They (Fort Recovery) were fighting to stay tied for first in the league. I knew they would bring their A-game."
In the fourth quarter alone, the teams were tied five times with four lead changes.
Fort Recovery went ahead 33-31 early in the final quarter after a pair of Sierra Fent free throws but Minster tied the score on Bridget Geiger's jumper.
That trend continued for the rest of the final quarter. Fort Recovery got free throws from Chelsea Pottkotter and a jumper by Pugh to charge ahead, only to have the Wildcats get free throws by Geiger and Alexis Wuebker to knot the score again.
The Indians were on top 39-36 with 2:45 left to play in the game after a Pugh jumper but a Geiger jumper and two free throws helped the Wildcats charge in front 40-39 with 1:09 left on the clock. Fort Recovery's Kara Jutte tied the game at the 1:04 mark with a free throw, but the second attempt from the charity stripe was missed and Minster's Sara Dahlinghaus grabbed rebound.
Minster patiently worked its offense before Kayla Richard was fouled. Richard, who missed the front end of two straight one-and-one opportunities previously, made the first free throw to give Minster a 41-40 lead, but missed the second attempt and Fort Recovery's Tori Lennartz grabbed the rebound. Pugh then missed a potential go-ahead jumper and Geiger got the rebound before Stechschulte called timeout.
Geiger was later fouled with 17 seconds left in the game and drilled both free throws to give the Wildcats a three-point lead at 43-40. The Indians turned the ball over on their next possession and Minster's Claire Fischer was fouled, but she missed both free throws with three seconds on the clock. The Indians got the rebound but were unable to get off a final before the final buzzer sounded.
"I told the girls we had to get the momentum and keep the momentum and play with energy to fight the whole game," said Stechschulte. "We had momentum swings but at the end, Bridget made a couple of free throws and we were able to finish it. Any MAC game on the road is difficult. I'm just really proud of the kids."
Geiger had 15 points to lead the Wildcats while Lennartz finished with 11 points on 4-of-15 shooting to lead Fort Recovery.
Minster returns to action next Thursday with a road trip to Coldwater while Fort Recovery hosts Mississinawa Valley on Saturday afternoon.