Wednesday, February 6th, 2013
Celina aces test against Crestview
By Ryan Hines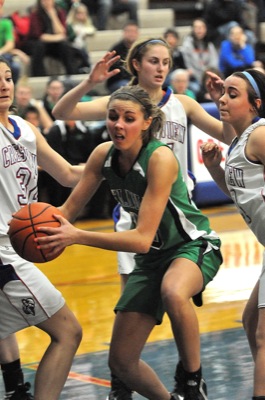 CONVOY - Tuesday night was supposed to be a big test for Celina's girls basketball team when the 16-2 Bulldogs traveled to Convoy to take on the 17-1 Crestview Knights.
Pressure defense and a dominant showing in offensive rebounding helped Celina ace the test with an impressive 60-42 win over the Knights as the Bulldogs extended their winning streak to 13 games.
Celina (17-2) has now beaten its last 12 opponents by double figures and in the process ended Crestview's 16-game winning streak. The only other loss of the season for the Knights came on Nov. 24 against undefeated Ottoville, the top-ranked team in Division IV.
"I think our girls came ready and focused to play tonight against a good team on the road," said Celina's head coach Brian Stetler. "This was a good test for our girls and I think we did a good job of staying focused through the whole game."
Celina was leading 18-17 early in the second quarter after Hillary Heiby drew a second foul from Crestview's standout Mackenzie Riggenbach.
Although Crestview grabbed a brief 19-18 advantage after Riggenbach went to the bench, it was clear the Knights struggled without their point guard as she didn't play for the remainder of the first half.
Celina's defensive pressure led to nine Crestview turnovers in the second quarter and the Bulldogs went on a 16-2 run to close the first half for a 34-21 advantage. Katie Stahl scored four points during the game-changing run while Emily Bihn and Taylor Guingrich contributed three points apiece.
"Good defense goes a long way for any team. I think our girls are fairly quick and they understand how to play defense. We rely a lot on our defense and it has played a big part in our success this season," said Stetler. "We made it tough for them to run their offense in the halfcourt setting and our fullcourt pressure defense gave them some problems and led to some fastbreak opportunities for us."
Celina's dominance carried over to the second half as the Bulldogs outscored Crestview 12-2 in the third quarter for a commanding 46-23 lead entering the final eight minutes of play.
"We got some turnovers and stops and were able to convert on the other end of the floor. I think the big thing is that they were getting tired in the second quarter and the pace was in our favor. We always talk about how important the third quarter is because you can really create some distance between yourself and the opponent. We came out of halftime with intensity and extended our lead," said Stetler.
Crestview had 23 turnovers in the game to just nine for Celina.
"They are so lengthy and they are quick. They gave some problems with our decision-making with our passes," said Crestview's head coach Greg Rickard. "They turned our turnovers into points and that was big."
Celina also held a big edge in offensive rebounding as the Bulldogs had 12 second-chance opportunities to just two for the Knights.
Stahl, who had six offensive rebounds, led all scorers with 15 points to go along with 10 total rebounds. Stahl was quick to deflect the praise to her teammates.
"I couldn't have done it without my teammates because they kept giving me great passes and I was able to finish," said Stahl. "There's no selfish players on this team and it showed again tonight. That's why we have been successful this season."
Hillary Heiby (13) and Kylee Bader (10) joined Stahl in double figures while Riggenbach led Crestview with 14 points.
Celina is back in action again on Thursday with a road trip to Kenton.