Wednesday, February 13th, 2013
Celina's seniors shine in home finale
Bulldogs roll to 15th straight win
By Gary R. Rasberry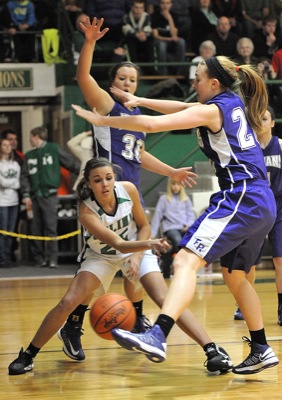 CELINA - A 21-0 run by Celina's girls basketball team during the middle two quarters helped the Bulldogs wrap up the home portion of their schedule with a 70-49 victory over Fort Recovery on Thursday night at the Fieldhouse.
Celina, which moved into the top 10 of the final Division II state poll in the 10th position, heads into Thursday's regular-season finale at Elida with a record of 19-2. The Indians drop to 14-7 and will finish the regular season on Thursday against St. Henry at Fort Site Fieldhouse.
Turnovers were a problem for both teams in the early part of the game as they combined for 26 in the first half. Celina went on a 10-0 run after the Indians' Tori Lennartz scored the first bucket of the game to take an early 10-2 lead. The Indians were able to bounce back and pulled to within three points at 14-11 before the Bulldogs scored the final four points of the opening quarter for an 18-11 advantage after one quarter of play.
"We knew this would be a good game," said Celina's head coach Brian Stetler. "(Fort Recovery) has a nice team. With the tempo of the game, we can wear teams out."
Fort Recovery was within five points at 26-21 with 3:18 left in the second quarter before a scoring drought occurred for the Indians. Celina's Hillary Heiby hit a pair of three-pointers in the final minute of the first half to ignite a 10-0 run that put the Bulldogs on top 36-18 by halftime.
"They're a good team. The best we've played all season," said Fort Recovery's coach Doug Bihn. "To compete with a team like (Celina), you have to play flawless basketball. We didn't do that tonight. We gave up way too many easy buckets to them. ... You can't do that against a team like this."
Celina's hot streak carried over into the second half as the Bulldogs scored the first 11 points of the third quarter to take a 47-18 lead. Taylor Guingrich had five points and Emily Bihn - the niece of Doug Bihn - added four points to spark the run. Fort Recovery's Chelsea Pottkotter snapped a 6:00 scoreless stretch with a three-pointer.
"We made a nice run in the second quarter and into the third quarter," said Stetler. "Girls did a good job of doing what they needed to do to get the job done."
It was appropriate that on Senior Night, Celina's six seniors - Guingrich, Bihn, Katie Stahl, Hillary Heiby, Beth Homan and Kylee Bader - provided 68 of the Bulldogs' 70 points. Heiby finished with a game-high 18 points and Stahl was 7-of-9 from the field for 16 points to go with nine rebounds. Bader and Guingrich each had 11 points with Bihn and Homan scoring eight and four points, respectively.
"That's really nice to see. This team is capable of doing that," said Stetler. "They share the ball well, see the floor well. Nice to see them get a win in their last home game."
Lennartz led Fort Recovery with 15 points and Kelsey Fiely added 13 points with Pottkotter hitting a trio of treys for nine points.