Thursday, February 14th, 2013
Charlson ready for Daytona
By Mike Ernst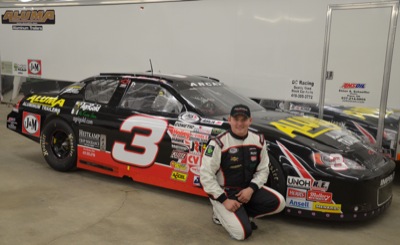 One year after nearly shocking the auto racing world, New Bremen's Drew Charlson returns to Daytona International Speedway this week for the 50th running of the Daytona Slick Mist 200 for the Automobile Racing Club of America (ARCA) Stock Cars.
A crazy last lap, with cars running out of fuel and crashing ahead of him in the final turn, Charlson swerved to avoid the mayhem and pushed Bobby Gerhart under the checkered flag.
As Gerhart celebrated his eighth win in the biggest event on the ARCA schedule, a starry-eyed Charlson began to realize just how close he came to winning in only his second career start in the series.
"We knew before we went down there that we had a really good car and just kind of tried to stay out of everyone's way in practice and not show everyone what we had," Charlson recalled earlier this week as he returned to the 2.5-mile tri-oval. "Once the race started it was obvious that we were just as good as anyone there."
Now a year later, Charlson thinks everything is in place to better the runner-up finish of a year ago. Not only does he have experience on the track, but he has dealt with the mind game the superspeedway can play in the head of a young driver.
"We are much more prepared and I just have a better understanding of what it is going to be like," Charlson said. "We arrive on Tuesday and don't even unload the car. Wednesday is a lot of hurrying up to wait with tech (technical inspection), but now I know not to get anxious until we can get on the track."
The ARCA series gets rolling with practice and qualifying today, followed by more practice on Friday, before the 80-lap, 200-mile event on Saturday afternoon at 4 p.m. Fans can watch the event live on SPEED.
Charlson was part of three days of testing at Daytona last month and feels the car he will pilot this year will be even better than the one he drove a year ago.
"We took the same car to Daytona to test and we learned a lot," Charlson said. "We were happy with the speed in single car runs and how it handled in the draft."
However, to get ready for the test, the body had to be completely rebuilt and a new front clip installed after it was destroyed in an accident at Talladega Superspeedway last May.
Any worries about speed were quickly diminished as Charlson posted the sixth-fastest time in single car runs on day two of the Daytona test. Drafting practice brought some more changes and adjustments to the car and by the end of day three, Charlson had posted the seventh-best time in drafting, while working with Gerhart and others.
"We had a list of changes we wanted to make on the car and they all seemed to help it," Charlson said. "We were able get a lot of track time and see how the car responded to each change. We were pretty satisfied with the test. We were never in full qualifying trim and we were not using our race motor, which should provide a little more horsepower come race time."
Aluma Aluminum Trailers, Charlson's long-time sponsor during his tenure in the USAC Kenyon Series and Main Event Outlaw Series, has signed on as primary sponsor for the ARCA events at Daytona and Talladega. Additionally, AgriGold Seed Company and Heitkamp Crop Insurance are back on board as associate sponsors for all races, with AgriGold Seed Company stepping up their involvement in the Main Event Racing Series. Charlson also welcomes new associate sponsor J&M Manufacturing at Daytona.
"I can't wait to get to Daytona for the Lucas Oil 200. We are so thankful to Aluma Trailers, J&M Manufacturing, AgriGold Seed and Heitkamp Crop Insurance for giving us this opportunity," Charlson said. "This car sat on the pole at Daytona and Talladega (with previous driver Ty Dillon), visited victory circle at Talladega and finished second at Daytona, so we know that we have the equipment to be a contender."
As of now, the only ARCA events on Charlson's 2013 schedule are the two restrictor plate events, Saturday at Daytona and the May event at Talladega. Charlson also plans on competing in at least 8-10 Main Event Outlaw Late Model events throughout the Midwest this summer.