Saturday, February 16th, 2013
Flyers bury Panthers from three-point range
By Randy Bruns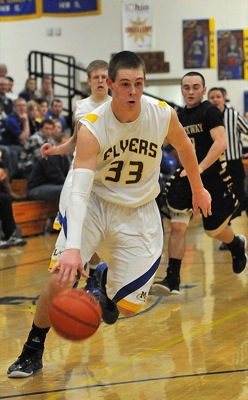 MARIA STEIN - A pair of teams searching for their first Midwest Athletic Conference win of the season were battling neck and neck on Friday night, but within a span of just five minutes, Marion Local took control of the game.
The Flyers unloaded a barrage of three-pointers on the Parkway Panthers during the third quarter to turn a tight game into a blowout at The Hangar, as Marion Local won convincingly by a score of 71-35.
Marion Local (8-11, 1-6 MAC) was up by seven points early in the third quarter when Parkway's Matt Heindel was fouled while shooting a three-pointer. Heindel canned all three freebies to pull Parkway (2-18, 0-8) to within four points at 29-25 with exactly five minutes left in the frame, and it looked like an exciting finish was in order.
Instead, the Flyers began to dial long distance and their sharp-shooters connected in a flurry.
Cole Griesdorn started the three-point onslaught with a trey that was soon followed up by another from Dustin Seitz. Following a Parkway timeout, Griesdorn quickly connected again from behind the three-point arc to give his team a 38-25 advantage.
Dustin Rethman then hit a free throw and Adam Bertke scored from down low before Heindel hit a deuce in the lane to give the Panthers their first points in almost three minutes. Heindel's bucket proved to be just a quick reprieve, though, as Griesdorn buried two more trifectas before Rethman ended the quarter with two free throws.
During the five-minute flurry, the Flyers buried five three-pointers while outscoring the Panthers 20-2 and turning a four-point lead into a 22-point bulge going into the fourth quarter.
"When we can get some perimeter shooting with the size we have, it makes all the difference," said Marion Locals' coach Kurt Goettemoeller. "Cole got on a roll and hit four big ones and Dustin chipped in with one as well. Our perimeter shooting is coming along, and if we can get more from there it's certainly going to help our cause."
Parkway's coach Will Snyder was at a loss to explain what happened to his Panthers during the ill-fated third quarter.
"I really don't know," stated Snyder when asked about Marion Local's game-breaking run. "When they hit the three from the corner, I felt like that was enough and then they hit the second one and we just don't respond well to adversity like that. It just put us in a tailspin and as it got deeper we just couldn't dig ourselves out."
The Flyers were mired in a self-imposed slump throughout much of the first half. The hosts committed 14 turnovers in the first two quarters and the Panthers took advantage by tying the score at 17-all late in the opening half on Brant Barna's jumper from the wing.
"I was stunned to learn that we had about 15 turnovers at half," said Goettemoeller. "Our coaches told me at halftime that we were shooting really well, but we were just giving the ball away too much. We cleaned that up quite a bit in the third quarter."
The Flyers committed only four miscues in the second half while forcing 10 turnovers by the Panthers.
Griesdorn and Luke Knapke each tallied 14 points to share game-high scoring honors, while Bertke tossed in 12 and Clint Knapke contributed 11. Barna and Heindel were the lone Panthers in double digits with 12 and 11 points, respectively.
Marion Local returns to action tonight when it travels to Russia to play the Raiders with the jayvee game slated for a 5:30 p.m. start. Parkway gets a few days off before playing host to Wayne Trace on Thursday and finishing its season by entertaining Delphos St. John's on Friday.