Thursday, February 21st, 2013
Byer finishes eighth at state
By Gary R. Rasberry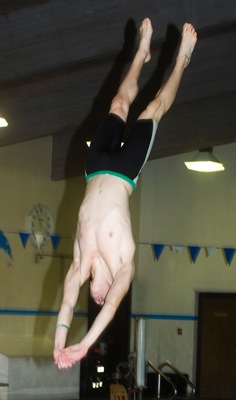 Compiled by Gary R. Rasberry

Celina's Collen Byer wrapped up his high school diving career on Wednesday afternoon in the Division II state diving championships at the C.T. Branin Natatorium in Canton with another first team All-Ohio finish.
Byer finished eighth with a score of 369.15 points to earn a podium finish for the third time in his four years of diving for the Bulldogs. He finished sixth as a freshman, third as a sophomore and was 11th a year ago.
"It's a pretty big accomplishment to have made the podium three years," said Byer via telephone as he was returning home on Wednesday evening. "I wanted to finish a little bit stronger this year because this is my final year. Overall, I'm satisfied on how my high school career has gone. I think I'm going to miss the people that I've been around the past four years more than I will miss the sport."
"He has had a great career and he's a great kid," said Celina's diving coach Dave Koesters.
Byer jumped to the top of the leaderboard early in the first round of five dives because of strong showings on dives that featured a high degree of difficulty and offered more points per dive. After the first round, Byer was in second in the standings with a 195.75.
"I started strong. My DD (degree of difficulty) was a lot higher," said Byer. "It kept me up there."
In the second round Byer stayed sharp, but Canton Central Catholic's Alex Gonzales and Hunting Valley University School's Noah Sterling leaped ahead of Byer, who dropped to fourth going into the final round of three dives.
"The next round, had a little less DD," said Byer. "Then, a couple of mistakes that I should have cleaned up."
Diving second in the finals, Byer moved into third with his first dive, but as the rest of the field took their turns, Byer's score dropped in the rankings.
'The last round, I had the least amount of (DD) on my dives," said Byer. "I just dropped a little bit. Nothing I could do about it."
"His DD dropped in the second and third rounds," said Koesters. "That ultimately was where his downfall was. As far as his career, you couldn't ask for more."
Gonzales cruised to a state title with a record-score of 511.75.
Van Wert's Kase Schalois worked his way up the standings and finished fourth with a score of 399.05
Byer's teammate Chandler "C.J." Kimmel was unable to advance past the first round of competition, finishing 24th overall with a score of 117.30.
In the girls' diving competition, Celina's duo of Olivia Schlotterer and Samantha Ringo and St. Marys' Madison Taylor all made it through the first round of five dives and into the semifinals. Taylor and Schlotterer then advanced to the final round of 16, but Ringo missed the cut and finished 18th with a score of 234.35.
In the finals, Schlotterer had a tough final two dives and posted two of her lowest scores of the day but came away with a 14th-place finish and a final score of 337.10. Taylor started her last round of dives with one of her best scores of the day but came away with a 15th-place finish after a final score of 335.70.
Columbus DeSales' Andrea Aquista won the state championship with a final score of 419.25 points, 4.75 points ahead of runner-up Brittany Anderson (Wellington School in Columbus).
Lima Shawnee's Amanda Lucas was unable to advance from the first round of dives and finished 23rd overall with a score of 132.85.
Swimming preliminaries for local swimmers in Division II will take place tonight starting at 5 p.m.