Saturday, February 23rd, 2013
Redskins top Cavaliers to end 16-year title drought
St. Henry and St. John's share MAC crown
By Gary R. Rasberry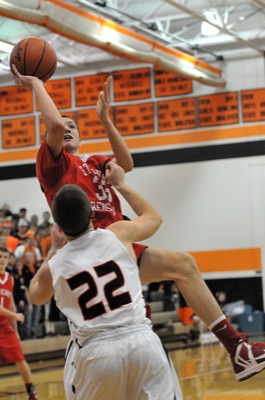 COLDWATER - If St. Henry was going to win a share of the Midwest Athletic Conference boys basketball championship on Friday night, the Redskins were not going be given the win on a silver platter by rival Coldwater.
Both teams shot the ball extremely well, but the Redskins grabbed the lead for good late in the third quarter and held off all of the Cavaliers' comeback attempts for a 72-65 win at The Palace.
St. Henry (19-3, 8-1 MAC) captured a share of its first conference championship since the 1996-1997 season.
"It feels really good to be a part of it," said St. Henry senior center Kyle Stahl. "We knew we could contend. We knew we could do it and got to accomplish what we wanted."
"With a rivalry game like this, throw the records out. It's a cliché, but it's true, especially between Coldwater and St. Henry," said St. Henry coach Eric Rosenbeck. "We're just so proud of our kids because they kept working and fighting, scrapping and clawing. We matched big shot for big shot against Coldwater and were able to come out victorious."
Coldwater (8-13, 3-6 MAC), which only mustered 26 points on Monday night in a loss to Marion Local, hit its first five shots - and eight of its first 10 - to help build a 21-18 lead at the end of the first quarter. St. Henry nearly matched Coldwater's quick start and cut its deficit to 36-35 by halftime.
"They (Coldwater) came out lights out," said Redskins' senior Alex Post. "We were doing our best just getting stops when we could."
At the start of the second half, Coldwater got a quick three-pointer from Mitch Schoenherr to go up 39-35, but the Redskins fired back as Ryan Mikesell hit a three-pointer. Coldwater's Derek Thobe then hit a bucket but St. Henry's Jordan Bender drained a trey to tie the game at 41-all and then Mikesell drove to the hoop and got the hoop-and-harm three-point play to give the Redskins their first lead since the beginning of the game at 44-41.
The Cavaliers, however, didn't fold. St. Henry was on top by five points 49-44 with just under three minutes left in the third quarter when Adam Klosterman buried a three-pointer and Mitch Heyne added a deuce to tie the score at 49-all. The score was tied two more times in the final 53 seconds of the third quarter before Post drilled a three-pointer just before the horn to put St. Henry in front 57-54 going into the final eight minutes of play.
"That's what wins you games, hitting crucial shots at crucial moments," said Coldwater's coach Mike Bruns. "Post hitting that three at the end of the quarter and Mikesell picking it up when Stahl was in foul trouble, that's what makes a good team."
St. Henry tried hard to put the game away in the fourth quarter, but every time the Redskins pushed the lead above five points the Cavaliers roared back behind big shots from Austin Bruns and Schoenherr. Finally, free throws from Kent Hemmelgarn and Mikesell put the game away for the Redskins.
"It was a fun basketball game to watch," said Rosenbeck. "Defensively, (Coldwater) caused us a lot of problems with their athleticism, but with the way they were shooting tonight, they'd cause a lot of teams trouble. Our kids deserve a lot of credit, particularly our seniors, coming through and winning that MAC title."
"It's the greatest feeling bringing St. Henry back on top where it belongs," said Post. "A lot of excitement right now."
Both teams shot the ball exceptionally well. St. Henry was 27-of-46 (58.6 percent) from the floor and Coldwater was 25-of-48 (52.1 percent).
Mikesell finished with a game-high 28 points for the Redskins. Post had 17 points and eight assists while Stahl and Bender added 12 points apiece.
Bruns closed out his career at The Palace with 24 points while Schoenherr scored 11 points.
Both teams are back in action on Wednesday. Coldwater travels to Wapakoneta for Division III sectional play against the Bluffton Pirates at 8 p.m., while St. Henry goes back to The Palace for Division IV sectional play at 6:15 p.m. against Waynesfield-Goshen.