Monday, March 4th, 2013
Gut-wrenching one-point defeat for Celina's girls
Division II District at Paulding
By Ryan Hines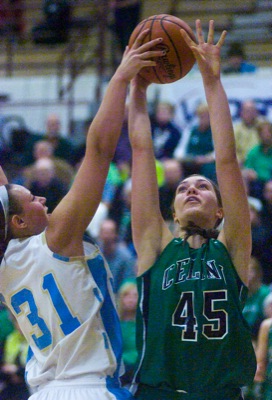 PAULDING - Tournament losses are never easy to accept, but Bath's 39-38 win over Celina in the Division II district championship game on Saturday night at Paulding was downright gut-wrenching for the Lady Bulldogs.
A questionable foul call with the score tied, sent Bath's Jenna Hollar to the free-throw line with just 2.9 seconds remaining in the game and the Wildkittens' junior hit one-of-two free throws to lift her team to a 39-38 victory.
With the score tied at 38-38 and 43.4 seconds left in the game, Celina had the ball and was playing for the last shot. After patiently passing the ball around the perimeter, Kylee Bader started to drive to the basket with about 10 seconds on the clock, but the ball bounced off her foot and out of bounds giving the ball back to Bath with 5.8 seconds remaining in the game.
Hollar took the inbounds pass and quickly pushed the ball up the floor, but Bader was called for a reaching foul near midcourt with 2.9 seconds on the clock.
"In my opinion it was a tight call in that situation. It was a little reach maybe, but it's always frustrating when you get a call like that at the end in that situation," said Celina head coach Brian Stetler. "There could have easily been a foul called when Kylie went to the basket. We were working for the last shot and it just didn't work out. There was a lot of pushing."
"I thought it was a credit to Jenna because I told her to catch it and get going with the basketball," said Bath head coach Greg Mauk. "She was aggressive enough to force them to chase her and they were leaning on her when she was coming up the floor. In fact, I thought they were leaning on her earlier and could have called a foul before they made the call."
Hollar went to the free-throw line for the double-bonus opportunity and her first attempt bounced off the back of the rim.
Celina then called a timeout.
"I was glad they called timeout so we could calm her down," said Mauk. "Jenna is a very high-strung kid. I knew that she was thinking (too much) at the free-throw line."
Following the timeout, Hollar went back to the charity stripe and calmly made the second free throw to give her team a one-point lead.
"I was just thinking that I had to make the second one. Just settle down and pretend that it's just me and coach in the gym," said Hollar. "The timeout settled me down. The team and coach talked me through it and told me that I was going to make it. I just had to picture it going through the net."
Celina then got the ball to Bader deep in the backcourt on the inbounds pass and her three-quarters court bomb was right on target but bounced off the back of the rim at the final buzzer.
"I thought it could come down to the last bounce of the ball, and by golly, it did. Fortunately we had things go our way in the end," said Mauk. "I didn't think there was a girl on the floor that could get it to the rim from three-quarters court, but she did and it almost went in."
Bath (20-5) now advances to the regional semifinals to face Toledo Rogers on Tuesday at 6:15 p.m. at Ohio Northern University after halting Celina's school-record tying 18-game winning streak. The Bulldogs finished the season with a record of 22-3, tied for second-most wins in school history.
"It was quite a battle for sure and bad for anyone to lose this game. I feel bad for our seniors," said Stetler. "We just came up a little short. They wanted it bad and played hard. It's just tough to lose. The girls are really disappointed that we didn't win tonight. It definitely hurts to end a great season like that."
It looked as if Celina would roll to its first district championship since 2000-01 in the early going as the Bulldogs busted out of a 4-0 deficit with a 10-0 run while building a 16-7 advantage after the first quarter of play.
Celina's lead grew to as many as 11 points at 20-9 early in the second quarter but Bath's Alyssa Manley and Emily Ruhe helped pull the Wildkittens back to within two points (23-21) at halftime. Manley and Ruhe each scored five points in the second quarter.
After Celina's strong start offensively, Bath changed from a man-to-man defense to a combination of 2-2-1 and 2-3 zone schemes.
"We were giving them too many opportunities at the rim, so we changed from man defense to a zone. Early in the first quarter we were letting them beat us to the rim," said Mauk. "We were too worried about their three-point shooters and letting them drive right around us."
The zone defense slowed Celina's offensive attack as the Bulldogs shot just 7-of-25 from the floor (28 percent) in the final three quarters of play after hitting 6-of-13 (46 percent) in the opening eight minutes.
Even when Celina was able to find a hole in Bath's zone, Ruhe was an enforcer at the basket with eight blocked shots in addition to her game-high 13 points and six rebounds.
"I told our coaches that I can't believe the attitude that Emily Ruhe has right now. It's something that I've been waiting to see for four years," said Mauk. "She really came to play tonight. She was flat out a warrior."
In addition to Ruhe's 13 points, Madison Dackin and Manley scored nine and seven points, respectively.
Katie Stahl paced Celina with 11 points while Hillary Heiby and Bader contributed eight points apiece.
As disappointing a loss as it was, Stetler wants his team, which includes six seniors, to remember this year fondly.
"They did a lot of great things that they can be proud of. Hopefully they can look back at their basketball career and realize what a fun time they had," said Stetler.