Saturday, March 9th, 2013
St. Henry misfires on offense
Division IV District at Elida
By Ryan Hines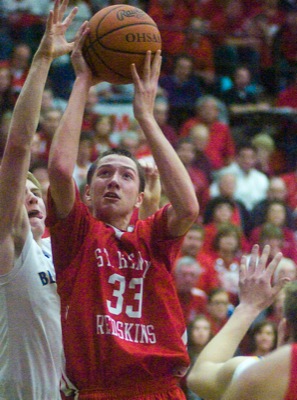 ELIDA - If St. Henry's boys basketball team was going to cut down the net at Elida with a second straight district championship, St. John's was going to force the Redskins to prove themselves from the perimeter.
St. John's packed the paint and St. Henry had no answer from long range as the Blue Jays avenged their 14-point loss to the Redskins in the regular season with a 63-46 victory on Friday night in the Division IV district final at the Elida Fieldhouse.
"If we were going to get beat tonight it was going to be from the perimeter," said St. John's head coach Aaron Elwer. "Our guys executed the gameplan and forced them to shoot more perimeter shots than they are accustomed to. Fortunately for us they didn't make as many as they have in the past."
St. Henry handed St. John's a 71-57 loss at Arnzen Gymnasium on Jan. 25 by shooting 23-of-33 (69.7 percent) from inside the three-point arc.
"We knew coming back from the way that we played the first time that we had to make some adjustments. Coach Elwer made the perfect adjustments and we executed them well in practice," said St. John's Curtis Geise, who scored 23 points. "They (St. Henry) live in the paint. The first game against us they shot some ridiculous percentage in the paint and that's where almost all of their points came from. We made them shoot it over the top tonight and that was the difference."
St. Henry head coach Eric Rosenbeck knew what the defensive strategy would be for St. John's.
"Earlier in the season the coaching staff and myself talked that if a team was going to beat St. Henry they were going to have to do exactly what St. John's did," said Rosenbeck. "Lately with the way we have been shooting, we thought we could alleviate that with people triple-teaming (Kyle) Stahl. That's the thing about the tournament, it's not a best-of-three or a best-of-five. One bad night and your season is over.
"They put a 1-1-3 (zone) out and surrounded Stahl instead of their normal matchup zone. We were able to get the shot that we have been hitting lately, but tonight wasn't our night," added Rosenbeck.
St. Henry missed its first 14 three-point attempts of the game and finished the night 3-of-23 from long range (17 percent). The Redskins were shooting 51.6 percent from the floor for the season but were held to just 19-of-54 (35 percent) against St. John's.
"For 11 games in a row we have been playing some really good defense and holding teams to 41 points per game. It's a mindset right now and guys are trusting the gameplan," said Elwer. "I just think that our guys are playing with a sense of urgency and a better understanding on the defensive end. I don't think we played like that the first time around."
Stahl, averaging 19.3 points per game, was facing two or three Blue Jay defenders the entire night and the Redskins' center was limited to just 6-of-14 shooting from the floor for 13 points.
Despite the offensive struggles, St. Henry and St. John's were tied at 14-14 at the 3:24 mark of the second quarter. Stahl was then whistled for a reaching foul about 25 feet from the basket and went to the bench for the rest of the first half with his second foul.
St. John's Ryan Buescher then scored back-to-back baskets and Andy Grothouse buried a three-pointer before Buescher capped a 9-0 run with another bucket that put the Blue Jays on top 23-14 at halftime.
The Blue Jays then poured it on at the start of the second half as Buescher and Geise connected from three-point range to ignite a 11-0 run to start the third quarter that put St. John's in command 34-14.
"The first two minutes of the third quarter was the difference. They came out and hit two huge threes and instead of it being 5-10 point game it was a 15-point game," said Rosenbeck.
Buescher scored eight points during the spurt and finished with a game-high 24 points, 11 rebounds, four steals and three blocks.
"He was first team all-league and that's what first-team guys do," said Rosenbeck.
St. John's rattled off a 20-0 run during St. Henry's 7:52 scoreless drought.
After scoring just 21 points in the first three quarters, St. Henry totaled 25 in the fourth quarter alone, but came no closer than 11 points in the final eight minutes of play.
Ryan Mikesell led St. Henry with 14 points but shot just 6-of-16 from the field.
St. John's connected on 18-of-36 from the floor (50 percent) and converted 22-of-26 at the free-throw line (85 percent), including 15-of-18 in the fourth quarter.