Friday, March 1st, 2013
Chamber recognizes citizens, businesses
By Christine Henderson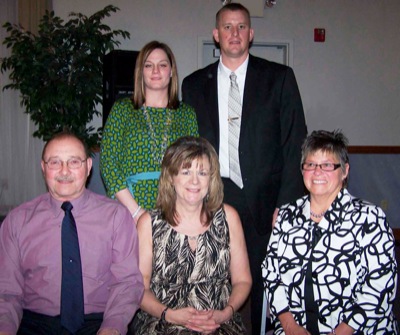 CELINA - Winners of the Celina-Mercer County Chamber of Commerce awards shown brightly Thursday night, despite the dim lighting at the start of the evening.
A power outage in a section of Celina about 4:30 p.m. had staff at Romer's at Westlake scrambling for generators and candles. The chamber award dinner opened in the cool-temperature venue with flickering flames at the tables. Good-natured applause broke out about an hour into the banquet as lights and heat returned.
From nominations by community members, chamber officials selected 2012 award recipients. The winners also received recognition proclamations from Mercer County Commissioners and State Sen. Keith Faber.
Tammy Barger of Celina was named Citizen of the Year.
The former Mercer County recorder was recognized for her philanthropic efforts, including work through St. Paul's Church in Celina, American Red Cross, Grand Lake Mariners, Tri-County Board of Van Wert, Mercer County Relay for Life, Right to Life and Sources.
The Achievement Award went to Community Health Professionals Inc.'s Adult Day Care Center in Celina.
The center provides a home-like atmosphere with a professional staff and volunteers. Clients participate in activities and meals while their caregivers have a respite.
Marce Nietfeld of Celina received the Humanitarian Award.
He was honored for his service at Immaculate Conception Church in Celina, Cheryl Ann Programs, Mercer County Board of Developmental Disabilities and Celina Knights of Columbus. For the American Red Cross, he assisted at numerous disaster sites, such as Hurricane Katrina, Mississippi/New Orleans rebuilding and Pennsylvania flooding. He also has raised funds and worked on projects in Haiti and Jamaica.
The Business of the Year Award was given to Jackson's Garage in Celina, which is marking its 50th anniversary.
Bill and Ambie Lennartz own the business specializing in heavy duty truck repair, towing/hauling and construction equipment repair. Bill Lennartz and his staff have assisted CALL Food Pantry in many ways. The garage participates in Cash for Cans Holiday Food Drive, Shoe Box Ministries and many other community-assistance projects.
After dinner at Romer's, Joanne Li, dean of the Wright State University business school, spoke about the need for business schools and the business community to work together to prevent stagnation in the workforce. She suggested efforts to get more students to begin and complete college.